Author & photographer: Ian French
Origin & History
The origins of Fleet Logistics Support Squadron 30 (VRC-30 "The Providers") can be traced back to Air Transport Squadron five (VR-5) which was commissioned in 1943 at NAS Seattle flying the Douglas R-4D, Douglas R-5D, Beech SNB and Noorduyn JA-1.  The unit's area covered the northwest US coast and Alaska.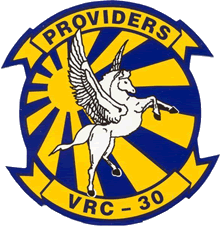 In 1948 VR-5 was placed under the command of the Fleet Logistics Support Wing, Pacific Fleet and in 1950 moved to NAS Moffett Field in California, with detachments establish in NAS North Island and Seattle.  VR-5 was decommissioned in 1957 and became VR-21 with detachments in Japan and NAS North Island.  VR-21 was the first squadron to fly dedicated Carrier Onboard Delivery (COD) aircraft, Grumman TBM-3Rs and in 1958 with the Grumman C-1A Trader.  The detachment relocated to NAS Alameda in 1960.
In 1966 VR-21 was decommissioned.  The Japanese Atsugi detachment became VRC-50 and the NAS Alameda detachment became VR-30 equipped with Convair C-131 Samaritans and C-1A Traders.
Notable milestones were the first COD arrested landing in 1966 on USS Bon Homme Richard (CVA-31), participation in various Apollo recovery operations, deployment to Vietnam in the Vietnam War and in 1974 the US Navy's first female aviator reported for duty.
In 1978 VR-30 became VRC-30 and relocated to its current home, NAS North Island.  In 1981 the squadron converted to the Grumman C-2A Greyhound and in 1994 took sole responsibility for the Pacific Fleet C-2A operations when VRC-50 was decommissioned.  The squadron currently operates five carrier detachments.
VRC-30 also added the C-12 Fleet Replacement Squadron in 1980 and undertook ground and flight instruction for all Pacific Fleet pilots and aircrew in the Beech C-12 Super King Air until 2004.
Today VRC-30's mission is to:
Provide detachments manned and ready to deploy in support of the joint combatant commanders;
Deliver high priority logistics support to local aircraft carriers;
Train pilots, aircrew and maintenance crew in order to deploy;
Conduct DV Missions;
Support Naval Special Warfare.
The Grumman C-2A Greyhound
Similar in appearance to the Grumman E-2, the C-2 is a twin engine, high wing aircraft which has two Allison T56-A-425 turboprop engines, a payload of 4,536 Kg, can carry up to 26 passengers, a crew of 4 (2 pilots and 2 aircrew) and provides support to Carrier Strike Groups carrying mail, passengers and priority cargo.
The C-2 has been a workhorse of the US Navy and without a ready replacement there was an urgent need for an update and life extension programme.  The first began in 2006 and was the critical Service Life Extension Programme (SLEP).  This increased the air frame lifespan from 10,000 flight hours or 15,000 carrier landings to 15,000 light hours or 36,000 carrier landings.  The SLEP programme should keep the C-2 flying until 2027.
The second programme was an aircraft rewire that began in 2008.  The third programme was a LOT 4 upgrade that began in 2010 and provided pilots with a new CNS-ATM glass cockpit and eight bladed NP2000 propeller systems which increased performance, reduced vibration and improved maintainability.
Aviation Press would like to thank the Public Affairs at NAS North Island, VRC-30 Public Affairs, Mark Forest and Jon Astley for their assistance in producing this article.
Aviation Press Limited owns the copyrights to this article & associated photographs.