Author & photography: Ian French
The acquisition of land that was to become Marine Corps Air Station New River in North Carolina began in 1941.  The first aircraft were based here in 1943.  The area was placed under the command of nearby Marine Corps Base Camp Lejeune though with the end of the second world war the field was downgraded to caretaker status until it was reactiviated in 1951 becoming Marine Corps Air Facility Peterfield Point, Camp Lejeune and then Marine Corps Air Facility New River in 1952.  Marine Aircraft Group 26 (MAG-26) moved in from MCAS Cherry Point in 1954.  In 1966 the base was renamed as MCAS New River.
Today MCAS New River reports to the 2nd Marine Air Wing at MCAS Cherry Point and is home to MAG-26 and MAG-29.  These two wings consist of the following units at MCAS New River:
HMLA-167 Warriors
HMM-261 Raging Bulls
HMM-264 Black Knights
VMM-266 Fighting Griffins
HMH-461 Iron Horse
VMMT-204 Raptors
AH-1W / UH-1N
CH-46E
CH-46E
MV-22B
CH-53E
MV-22B
HMLA-269 Gunrunners
HMM-162 Golden Eagles
HMHT-302 Phoenix
VMM-365 Blue Knights
HMH-464 Condors
VMM-263 Thunder Eagles
AH-1W / UH-1N
MV-22B
CH-53E
CH-46E
CH-53E
MV-22B
HMH-366 which operates the CH-53E at MCAS Cherry Point also reports to MAG-29.
The Aircraft
Boeing Vertol CH-46E Sea Knight
A tandem rotor, medium utility transport helicopter designed in the 1950s and built in the 1960s, affectionately known as the Phrog, with over 600 seeing service. It is used by the USMC to provide all-weather, day-or-night assault transport of combat troops, supplies and equipment. Additional tasks include combat support, search and rescue (SAR), support for forward refueling and rearming points, CASEVAC and Tactical Recovery of Aircraft and Personnel (TRAP).
For a helicopter of such longevity there have been many upgrades and improved models.  The original CH-46s were the A model and the first major improvement was the D model which started to be delivered in 1966. Its improvements included modified rotor blades and more powerful T58-GE-10 turboshaft engines rated at 1,400 shp each. The increased power allowed the D model to carry 25 troops or 3,180 kg of cargo.
The D model was quickly followed by the E model which features fiberglass rotor blades, airframe reinforcement and further uprated T58-GE-16 engines producing 1,870 shp each.  The CH-46E has a maximum gross weight of 11,000 kg, a cruising speed of 155 mph and a range of 265 miles. It has a crew of 3 and can carry 17 troops.
The F model was produced from 1968 in small numbers and retained the D model's T58-GE-10 engines but had revised the avionics and included other modifications.  The majority of models remaining in USMC service are the E.
This stalwart of the USMC is in its final years and is being replaced by the MV-22B Osprey.
Sikorsky CH-53E Super Stallion
The CH-53 is the USMC's heavy-lift transport helicopter. It began life in August 1962 when it was announced that the S-65A had been selected as a new ship-borne heavy assault transport for the USMC, with the military title CH-53A Sea Stallion.  A prototype flew in October 1964, and delivery of the first CH-53A's began in September 1966 powered by two General Electric T64-GE-6 turboshaft engines with 2,850 shp and a light alloy six blade main rotor.   It had rear-loading doors, and among the specified loads were a 105mm howitzer or 38 combat-equipped troops.   The initial production version was the CH-53A, delivered from September 1966, but the CH-53D introduced in March 1969 had more powerful 3,925 shp T64-GE-413 engines.  A total of 55 troops could be carried in a high-density arrangement.  An integral cargo handling system made it possible for one man to load or unload 1 ton of palletised cargo a minute.  The main rotor and tail pylon folded automatically for carrier stowage.
In 1974 the first CH-53E flew and featured three 4,380 shp General Electric T64-GE-416 engines and a strengthened transmission to withstand the increase in power.  The CH-53E was named the Super Stallion.  The fuselage is about two meters longer than that of the CH-53D and the tail pylon is canted to port.  The main rotor has also been improved and has seven composite blades.
The CH-53E has a crew of five: 2 pilots, 1 crew chief/right gunner, 1 left gunner, 1 tail gunner (combat crew) and has a capacity for 37 troops (55 with centerline seats installed).  The empty weight is 15,071 kg and the maximum takeoff weight is 33,300 kg.  Cruise speed is 150 knots and its range is 540 nm.
The CH-53E is nearing the end of its life with the USMC and will be replaced by the CH-53K.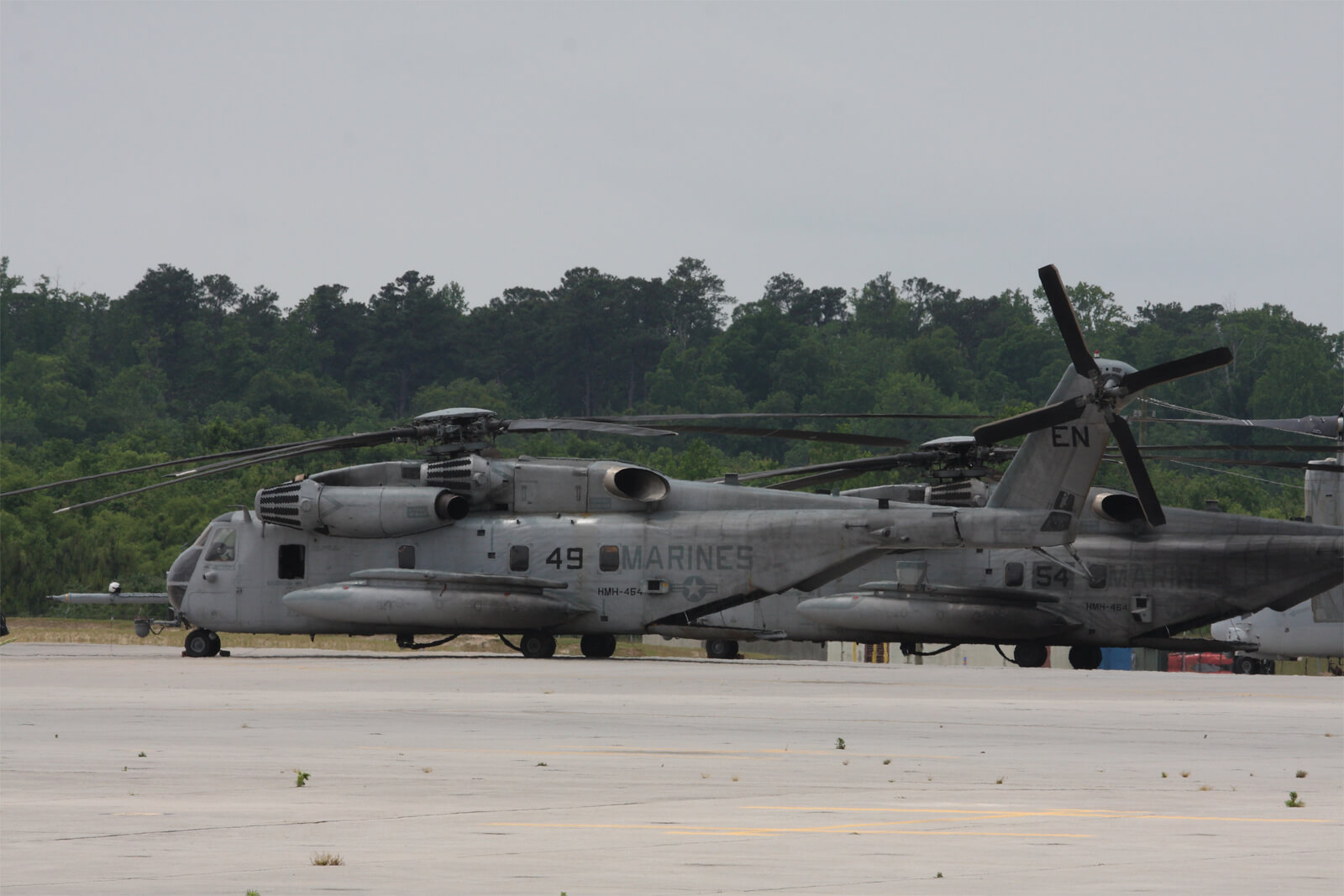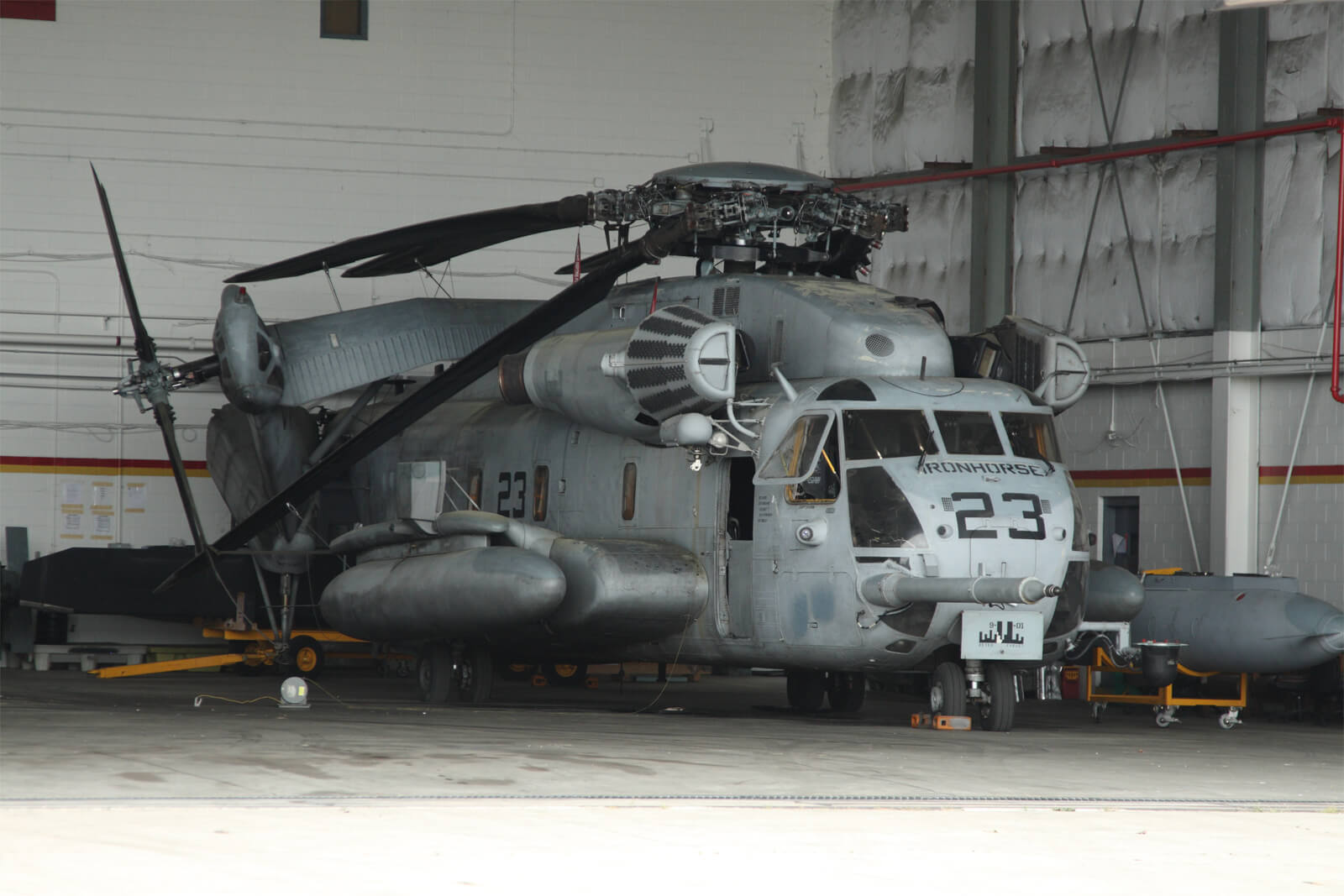 Bell UH-1N Iroquois
The Bell UH-1N Twin Huey is a twin-engine, twin rotor medium military helicopter based upon a stretched Bell 205A.  A member of the numerous Huey family, it first flew in 1969.  There was some controversy over this particular model, as the power plant was built in Canada, but eventually deliveries began in 1970.
The UH-1N is powered by two Pratt & Whitney Canada T400-CP-400 turboshaft engines that drive a single output shaft.  They are capable of producing up to 1,800 shp.  Should one engine fail the remaining engine can deliver 900 shp for 30 minutes or 765 shp enabling the UH-1N to maintain cruise performance at maximum weight.
The UH-1N has a crew of 4 (pilot, co-pilot, crew chief, gunner) and a capacity for 6-8 combat-equipped troops, or equivalent cargo.  Its empty weight is 2,765 kg and its maximum takeoff weight is 4,763 kg.  Cruise speed is 110 knots and its range is 248 nm.
This is another of the USMC's legacy aircraft that are being withdrawn from service in the near future.  The UH-1N is being replaced by the UH-1Y Venom.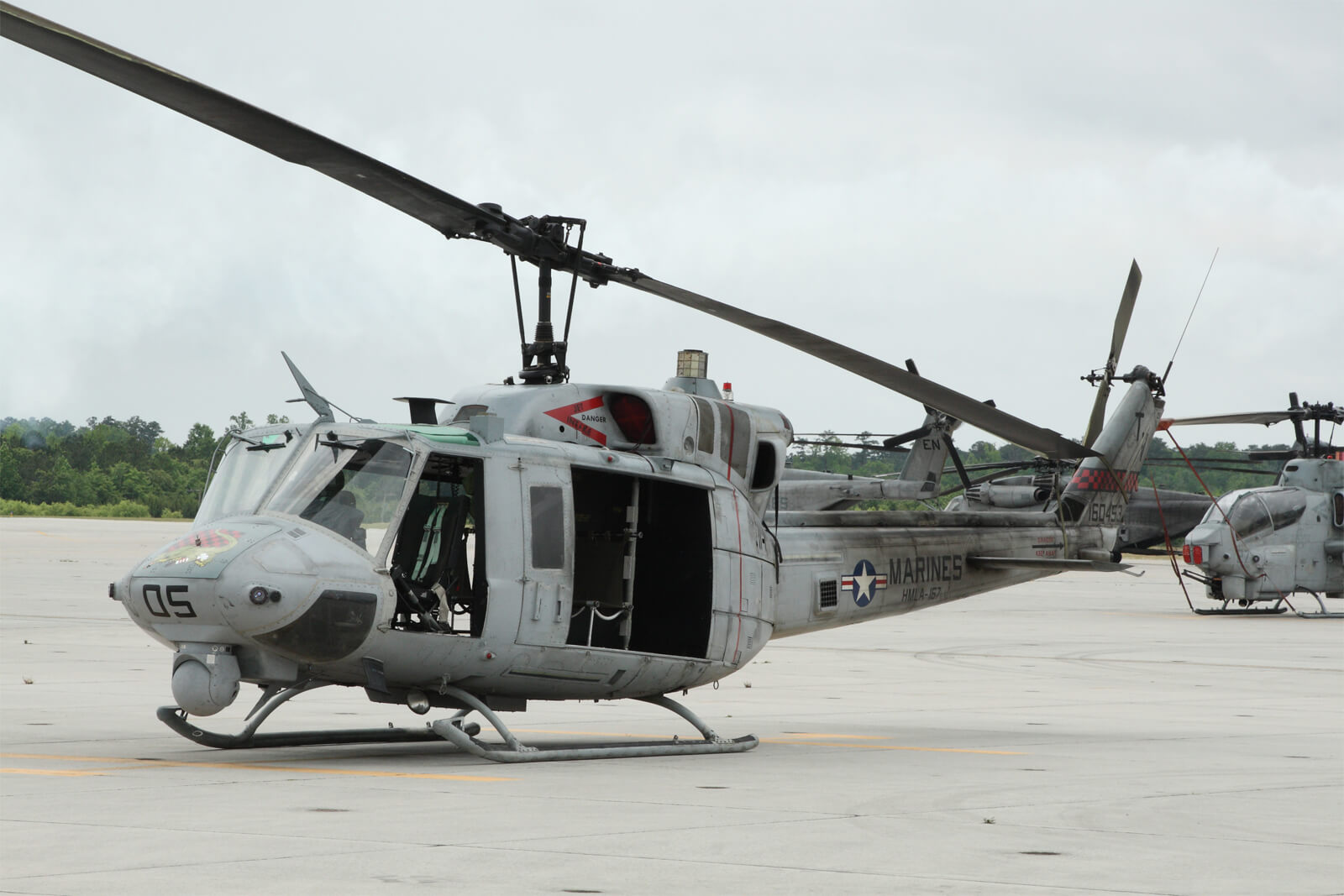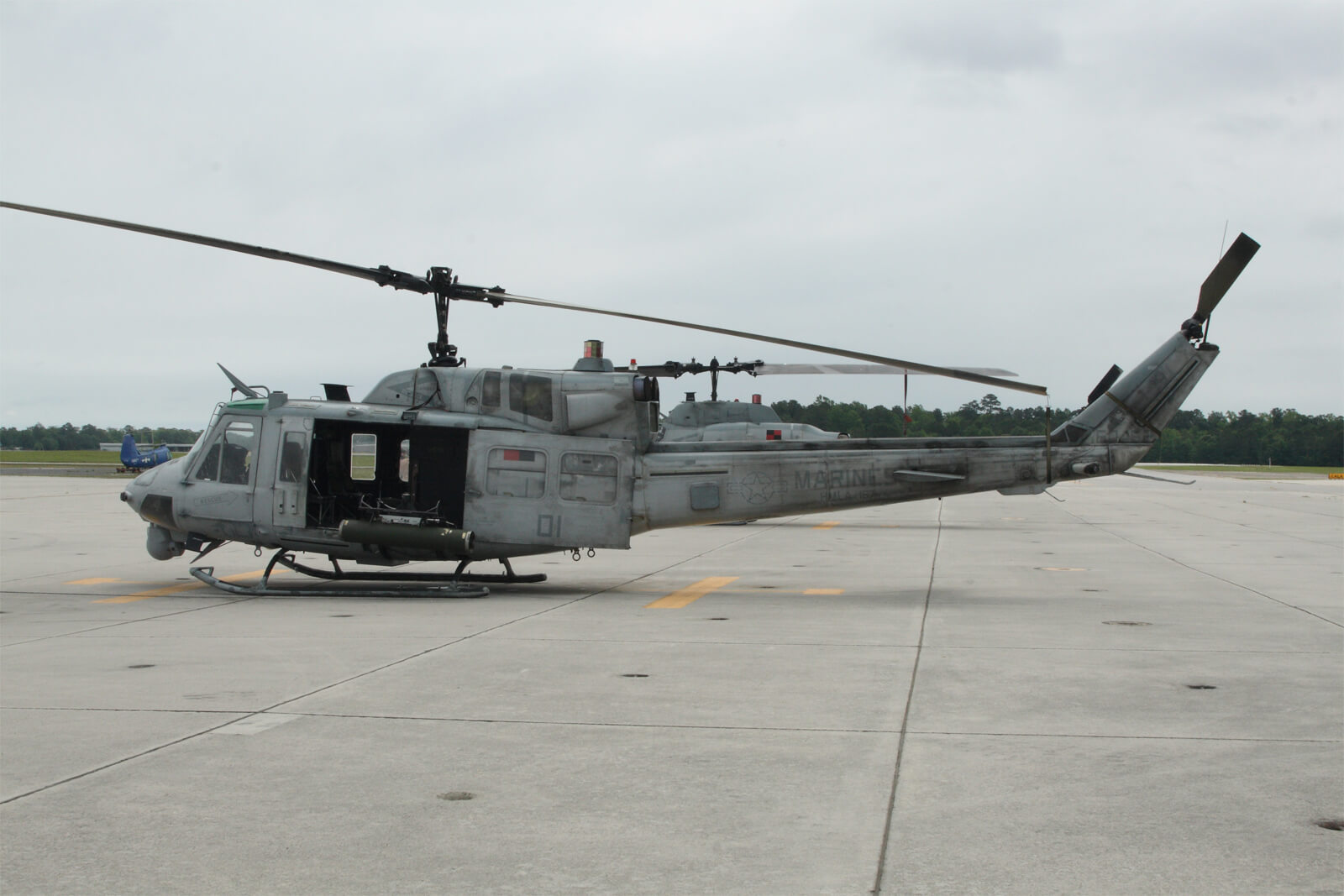 Bell AH-1W Super Cobra
The Bell AH-1 Super Cobra is a twin-engine, twin rotor attack helicopter based on the United States Army's single-engine AH-1G Cobra.  It has evolved from the USMC's AH-1J and AH-1T versions.
Initially the AH-1J received a more powerful gun turret than the AH-1G and it featured a three barrel 20 mm XM197 cannon that was based on the six barrel M61 Vulcan cannon.  The USMC requested greater load carrying capability in high temperatures for the Cobra in the 1970s.  Bell used systems from its Model 309 to develop the AH-1T.  This version had a lengthened tail boom and fuselage with an upgraded transmission and engines from the 309.  Bell designed the AH-1T to be more reliable and easier to maintain in the field. The version was given full TOW missile capability with targeting system and other sensors.
In the early 1980s the USMC required a more powerful version of the AH-1T.  Other changes included modified fire control systems to carry and fire AIM-9 Sidewinder and AGM-114 Hellfire missiles.  The new version received the AH-1W designation.
The AH-1W has a crew of two: pilot, co-pilot/gunner, an empty weight of 4,630 kg and a maximum takeoff weight of 6,690 kg.  It is powered by two General Electric T700-401 turboshaft engines which produce 1,690 shp each.  The maximum speed is 190 knots and the range 317 nm.
The AH-1W though is all about armament:
–             20 mm (0.787 in) M197 3-barreled Gatling cannon in the A/A49E-7 turret (750 rounds ammo capacity);
–             2.75 in (70 mm) Hydra 70 or APKWS II rockets – Mounted in LAU-68C/A (7 shot) or LAU-61D/A (19 shot) launchers;
–             5 in (127 mm) Zuni rockets – 8 rockets in two 4-round LAU-10D/A launchers;
–             TOW missiles – Up to 8 missiles mounted in two 4-round XM65 missile launchers, one on each outboard hardpoint;
–             AGM-114 Hellfire missiles – Up to 8 missiles mounted in two 4-round M272 missile launchers, one on each outboard hardpoint;
–             AIM-9 Sidewinder anti-aircraft missiles – 1 mounted on each outboard hardpoint (total of 2).
The AH-1W is also being withdrawn from service and is being replaced by the AH-1Z Viper.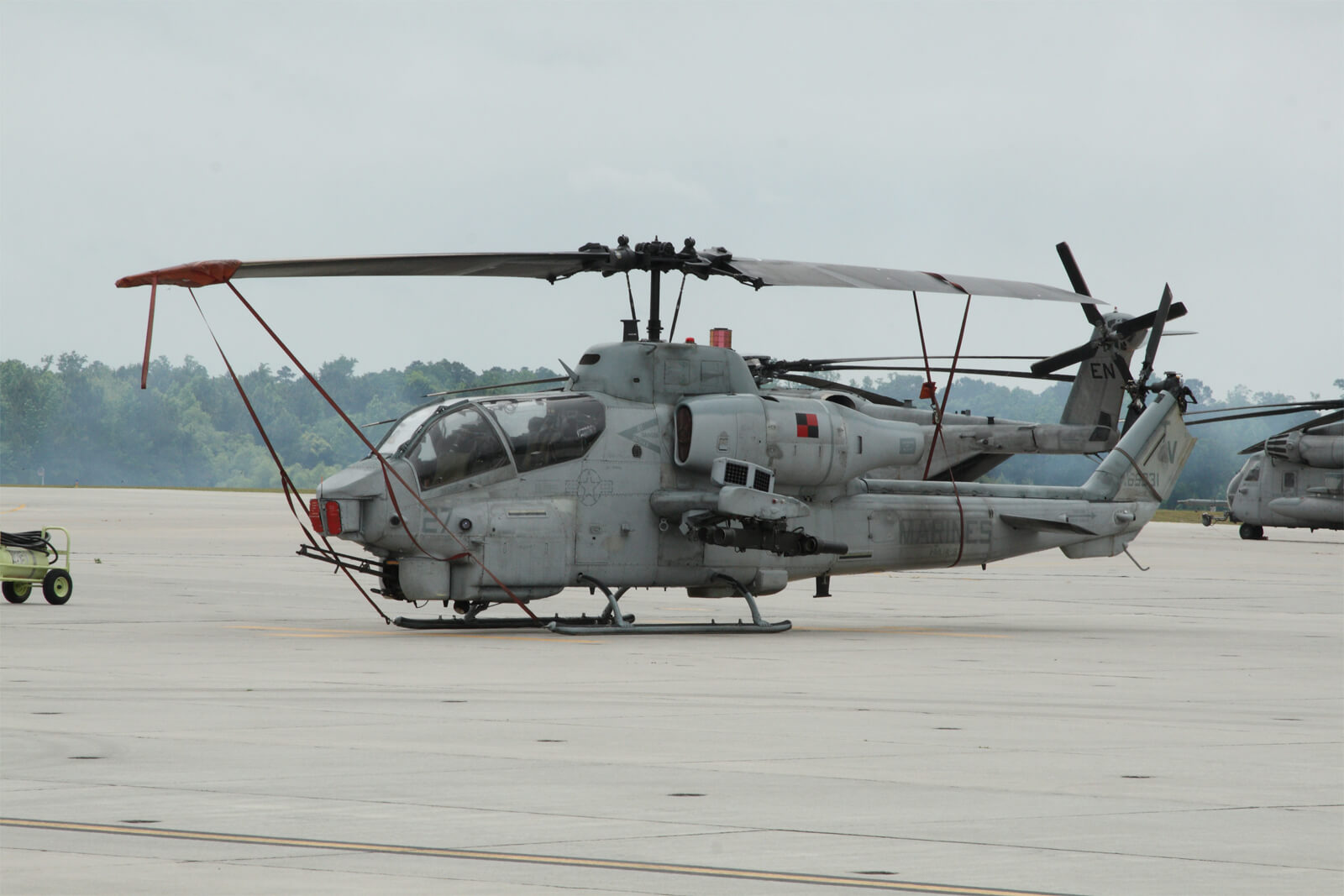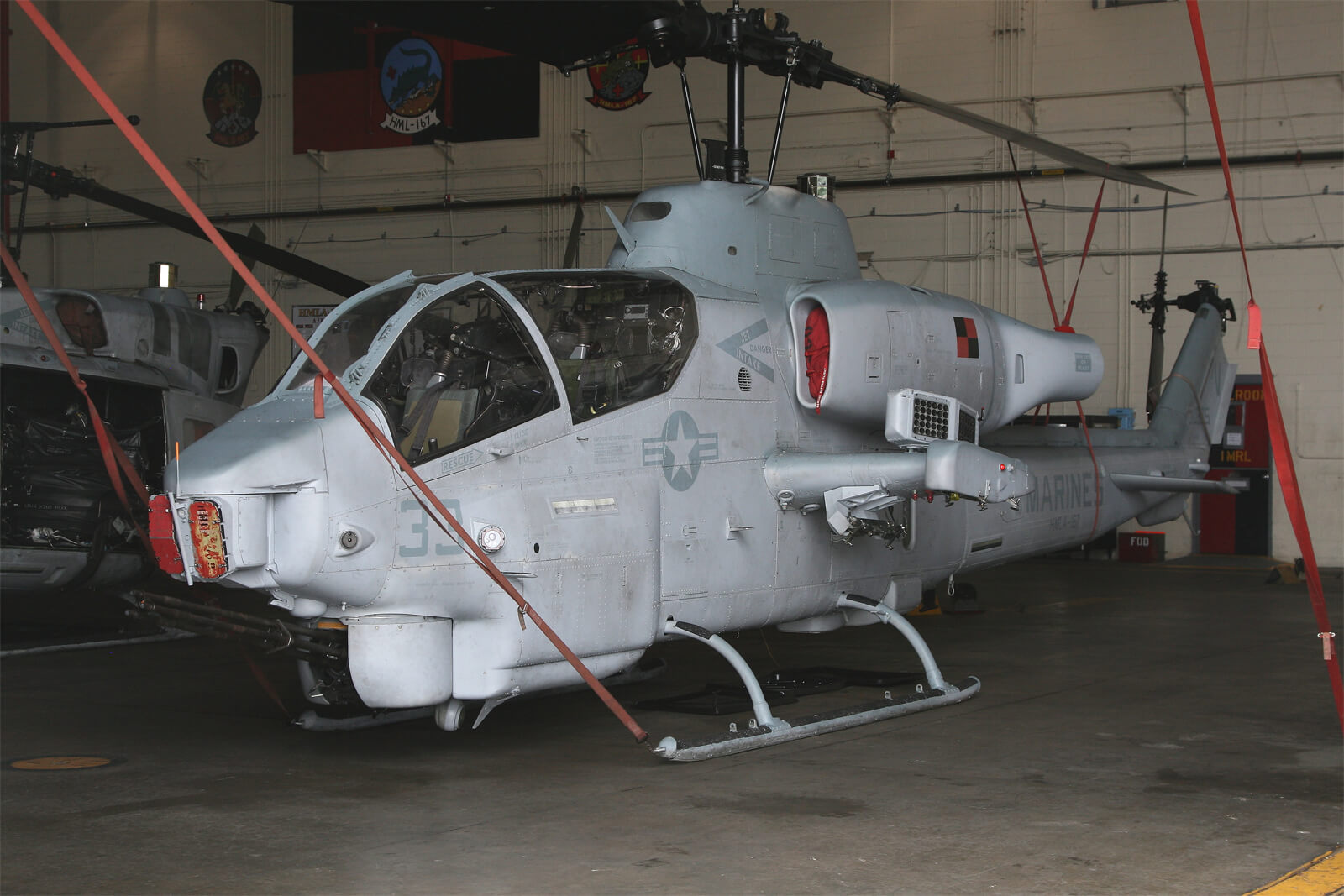 Bell Boeing MV-22B Osprey
The MV-22B is a multi-mission, tiltrotor military aircraft with both vertical takeoff and landing (VTOL), and short takeoff and landing (STOL) capabilities.  It is designed to combine the functionality of a conventional helicopter with the long-range, high-speed cruise performance of a turboprop aircraft.  It is replacing all CH-46s in service.  The design and build process for the revolutionary aircraft took 15 years and started in 1985.  It was an expensive programme and the cutting edge nature of the concept and design lead to many crashes before the design was perfected.  USMC crew training began in 2000 and the aircraft entered full service in 2007.
The MV-22B has a glass cockpit and has triple-redundant fly-by-wire flight control systems. The flight director panel of the Cockpit Management System (CMS) allows for fully coupled (autopilot) functions that take the aircraft from forward flight into a 50 ft (15 m) hover with no pilot interaction other than programming the system.
Like a helicopter the fuselage is not pressurised and personnel must wear on-board oxygen masks above 10,000 feet. The rotorwash usually prevents usage of the starboard door in hover and instead the rear ramp is used for rappelling and hoisting.  The MV-22B has a crew of four: two pilots and two engineers/crew chiefs depending on the mission.
The aircraft has a maximum ceiling of 25,000 ft, a cruise speed of 241 kn and a range of 879 nm.  The empty weight is 15,032 kg and the loaded weight 21,500 kg.  The maximum rolling takeoff weight is 25,800 kg and the maximum vertical takes of weight is 23,810 kg.  The power plant is two Rolls-Royce Allison T406/AE 1107C-Liberty turboshafts, producing 6,150 hp each. Either engine can power both proprotors through the wing driveshaft.  However, the V-22 is generally not capable of hovering on one engine and if a proprotor gearbox fails then that proprotor cannot be feathered and both engines must be stopped before making an emergency landing.
Armament is a 7.62 mm (0.308 in) M240 machine gun or 12.7 mm (0.50 in) M2 Browning machine gun on the ramp or a 7.62 mm (.308 in) GAU-17 minigun, belly-mounted, retractable with video remote control in the Remote Guardian System.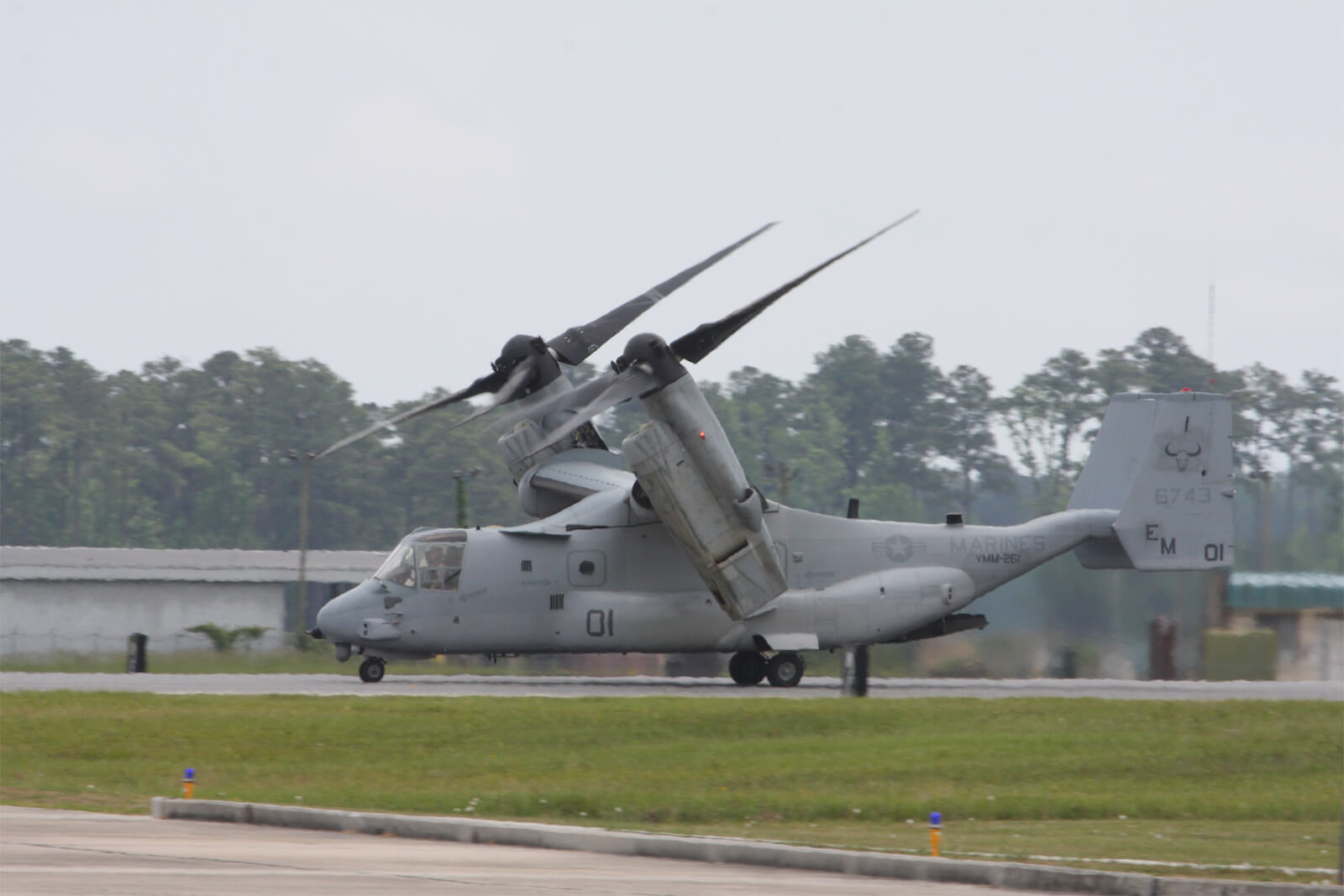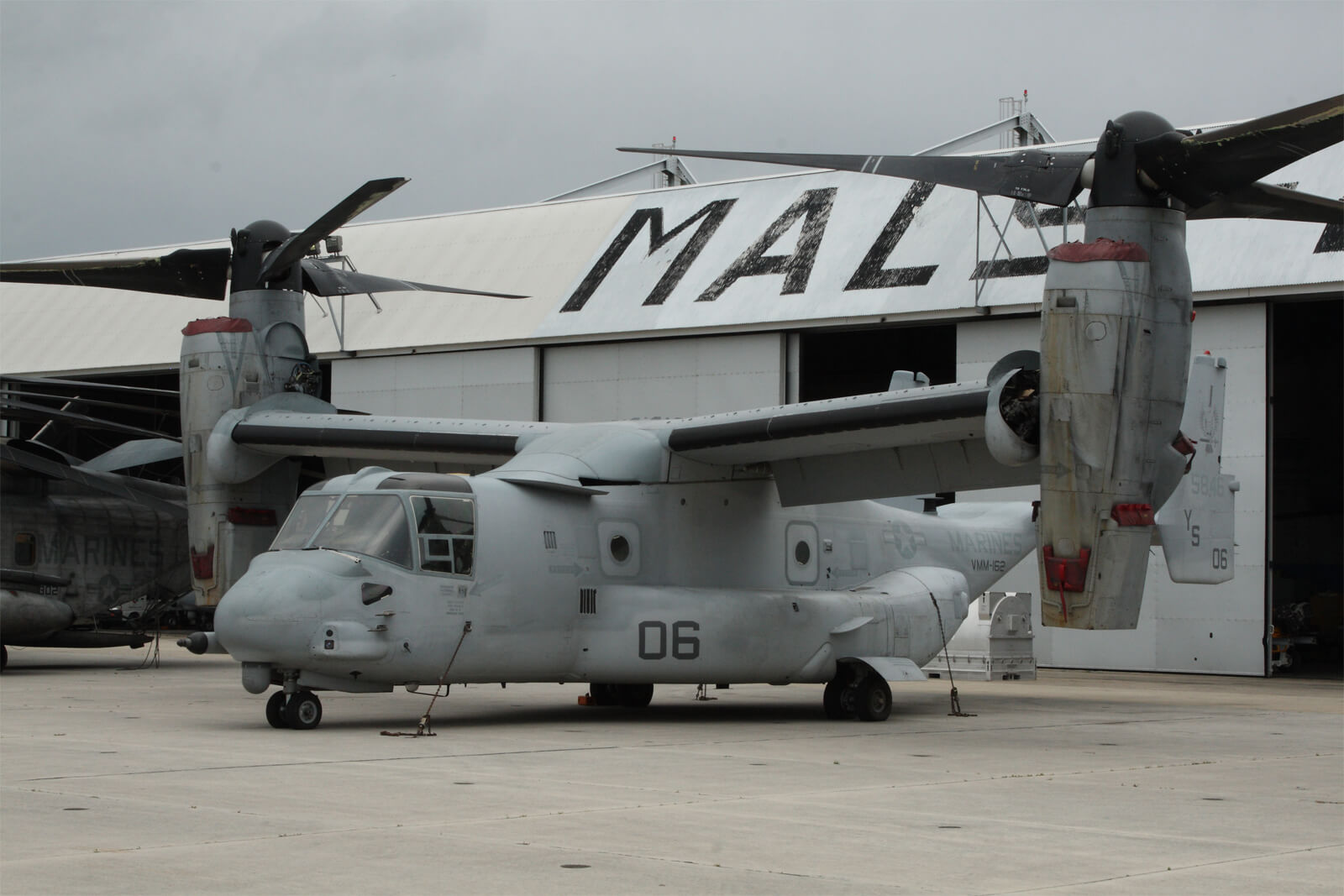 Special thanks to Mark Forest, Jon Astley and the Public Affairs MCAS New River for their help in producing this article.
Aviation Press Limited owns the copyrights to this article & associated photographs.