A visit by Ian French & Jon Astley.  Author & photographs: Ian French
Columbus AFB is one of the Air Education & Training Commands primary bases and is located in the heart of Mississippi. It was established in 1941 and began life as a training base. Apart from a few inactive years the base continues to train pilots some 75 years later, although for 14 of these years the base operated as part of the Strategic Air Command with B-52s and KC-135s.
For any base that has been operational as long as Columbus there will have been many organisational and unit changes. Today's resident operating wing, the 14th Flying Training Wing ("14th FTW"), was activated here in 1972.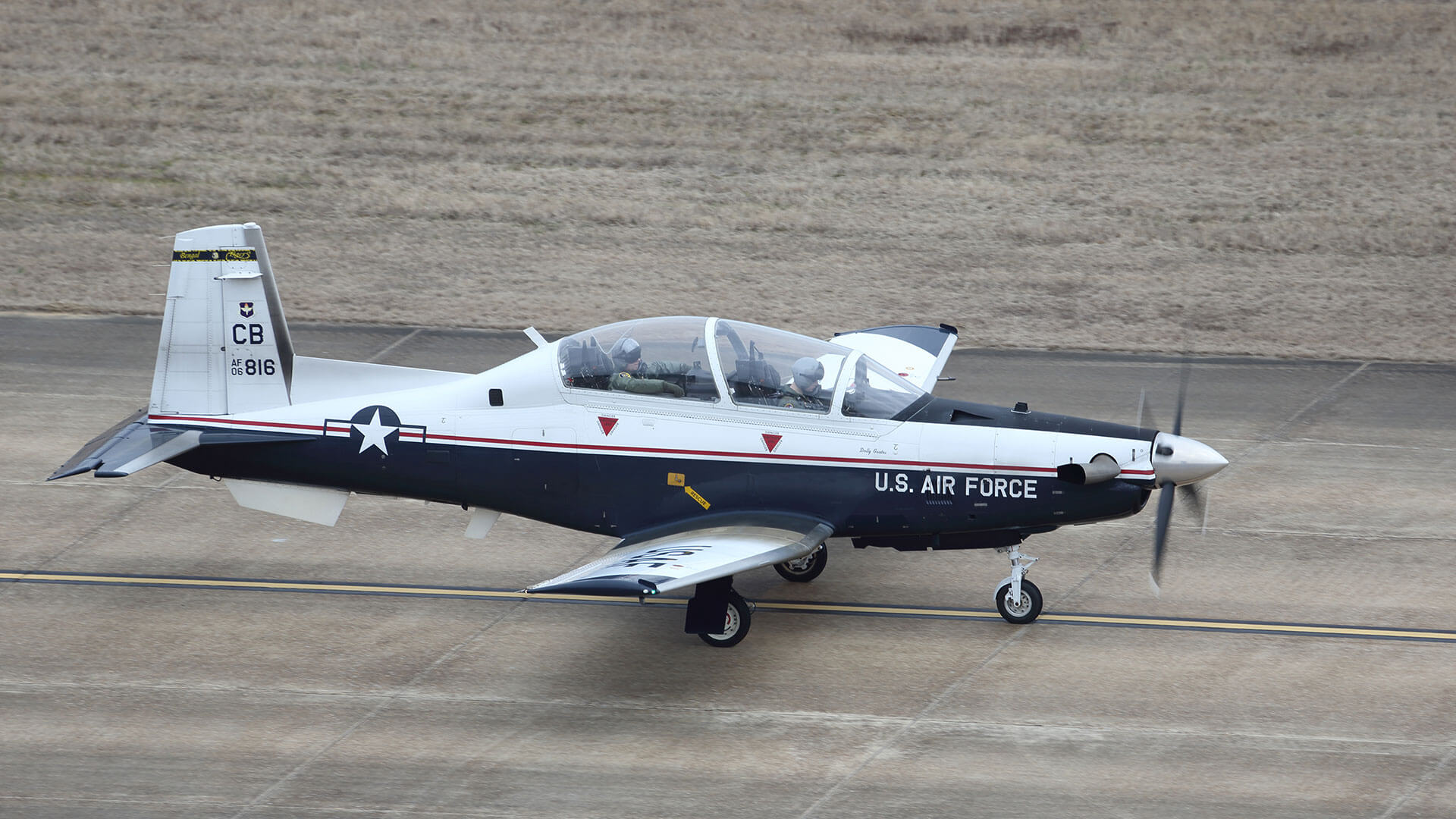 T-6A Texan II
The T-6A Texan II is a Raytheon licence built Pilatus PC-9 II. It is a single engine two seat tandem military trainer. The aircraft is fully acrobatic and has a pressurised cockpit with an anti-G system, ejection seats and a digital avionics package. The aircraft has been in service with the USAF since 2000 and there are 446 active aircraft on the inventory.
Power is derived from a single Pratt & Whitney PT6A-68 turbo prop engine that delivers 1,100 horsepower. The aircraft has an impressive thrust to weight ratio and can perform an initial climb to of 3,100 feet per minute and can reach 18.,000 feet in less than six minutes. Its range is 900 nautical miles, its top speed 320 miles per hour and its ceiling 31,000 feet.
T-1A Jayhawk
The T-1A Jayhawk is a military version of the Beechcraft 400A private jet. It is used by the USAF as a medium range twin jet trainer for advanced undergraduate pilot training for students that progress to tanker or transport aircraft. The cockpit can accommodate one instructor and two students. The aircraft has been in service since 1992 and there are 178 active aircraft on the inventory.
The aircraft's power plant are two Pratt & Whitney JT15D-58 turbofan engines producing a combined thrust of 5,800 pounds. The aircraft has a range of 2,222 nautical miles, an altitude ceiling of 41,000 feet and a top speed of 548 miles per hour.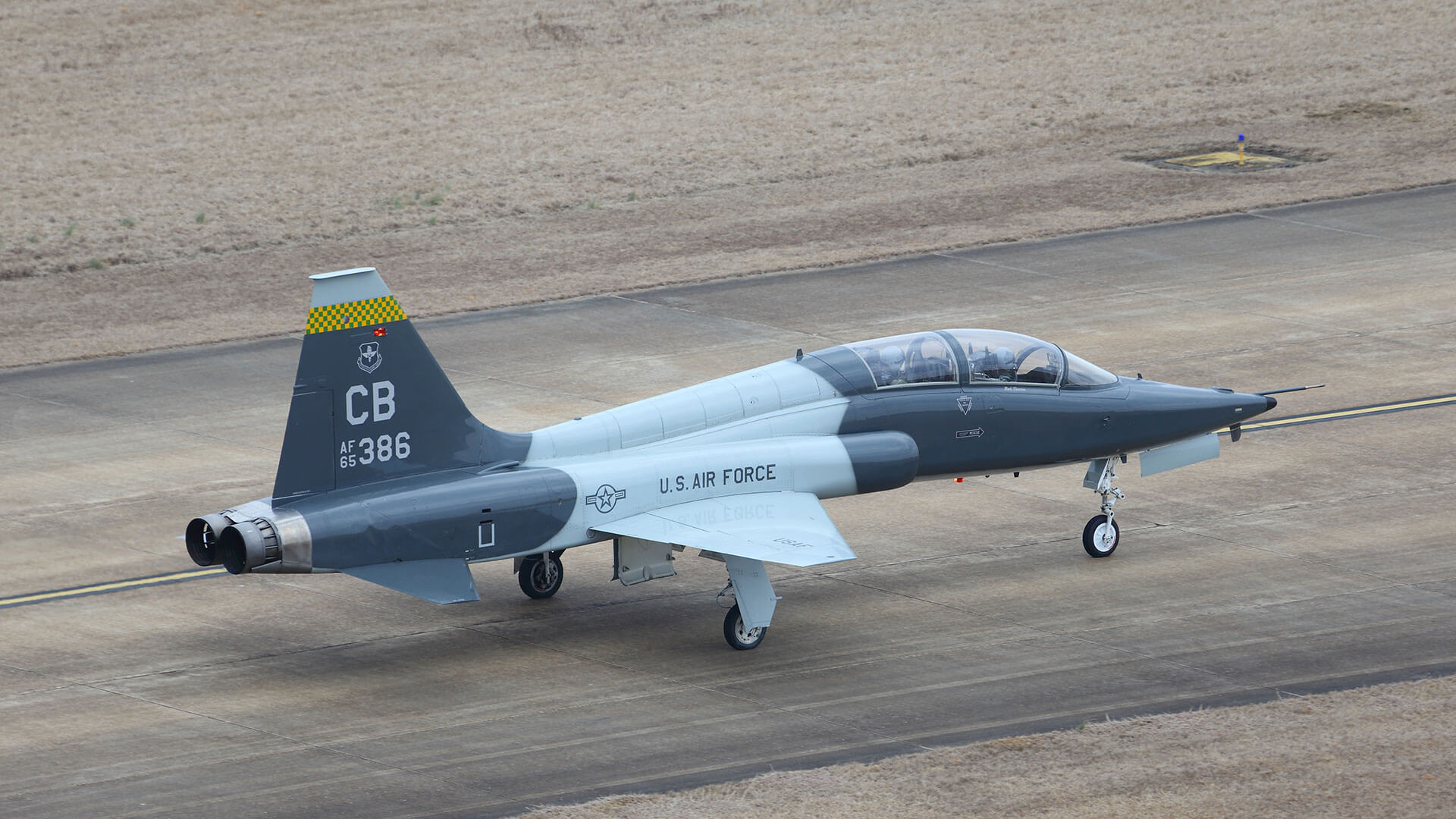 T-38C
The T-38 is a twin engine, high altitude, supersonic tandem jet trainer built by Northrop in the 1950s, 1960s and 1970s. The remaining models in service with the AETC are T-38Cs which came out of a modernisation programme that started in 2001. These aircraft have glass cockpits and improved engine components which should see them through to 2020!
Propulsion comes from two General Electric J85-GE-5 turbojet engines with after burners producing a combined afterburner thrust of 6,600 pounds. The T-38C's range is over 1,000 nautical miles with a ceiling of 55,000 feet. It has a top speed of 812 miles per hour at sea level (Mach 1.08).
At Columbus AFB itself, as of the time of the visit, there were 89 T-38C, 47 T-1A and 99 T-6A based.
The Units
The following active flying units operate under the 14th FTW:
37th Flying Training Squadron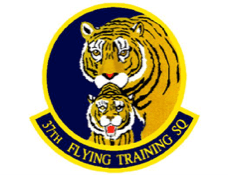 "Bengal Tigers"
Black / Yellow
T-6A
41st Flying Training Squadron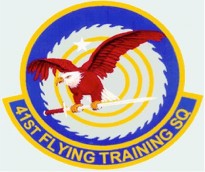 "Flying Buzzsaws"
Black / Red
T-6A
48th Flying Training Squadron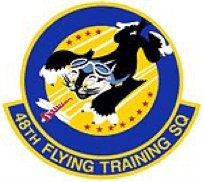 "Alley Cats"
Black / Red
T-1A
49th Flying Training Squadron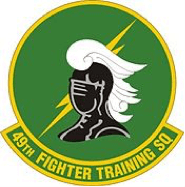 Yellow / Green
T-38C
50th Flying Training Squadron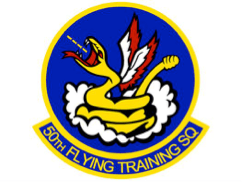 "Strikin' Snakes"
Black / Yellow
T-38C
All of the 14th FTW's aircraft carry the tail code CB.
Resident at the base is the 43rd Flying Training Squadron which is part of the 340th Flying Training Group, an Air Force Reserve group. This unit has no dedicated aircraft but borrows aircraft from all of the 14th FTW's units as and when required.
A special thank you to the 14th FTW and especially Lt Josh Benedetti/PA, Mark Forest and Jon Astley for their help and assistance in the visit and in preparing this article.
Aviation Press Limited owns the copyrights to this article & associated photographs