Authors: Mark Forest & Ian French Photography: Ian French
Carrier Airborne Early Warning Squadron ONE TWO ZERO "GREYHAWKS"
Carrier Airborne Early Warning Squadron One Two Zero (VAW-120) is the United States Navy's Fleet Replacement Squadron for the E-2C and C-2A aircraft.  Their current mission is to fly and train naval aviators, naval flight officers, and naval air crewmen to safely and effectively operate E-2 and C-2 aircraft, preparing them to join the fleet.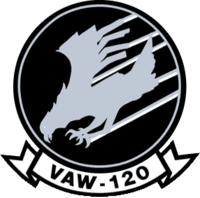 As early back as 1948 Carrier Airborne Early Warning Squadron TWO (VAW-2) was commissioned at NAS Norfolk.  Shortly after being formed, the squadron moved to NAS Quonset Point, Rhode Island and was redesignated Composite Squadron TWELVE (VC-12).  The squadron successively operated the TBM Avenger, the AF Guardian, and the AD-5W Skyraider.  In 1956 the squadron was redesignated Carrier Airborne Early Warning Squadron TWELVE (VAW-12).  With the new name came a new aircraft, the "Guppy" version of the AD Skyraider.
In 1961 the WF-2 Tracer, known as the E-1B "Willie Fudd", arrived to begin its long tour in AEW service and the following year the squadron returned to NAS Norfolk.  In 1966, VAW-12 received the first E-2A Hawkeye and was supplying detachments utilising two different aircraft aboard ten Atlantic Fleet aircraft carriers in addition to training personnel for those detachments.  With over 200 officers and 800 enlisted personnel, VAW-12 was reorganised as an Air Wing, and in 1967 the Commander in Chief of the U.S. Atlantic Fleet commissioned Carrier Airborne Early Warning Wing Twelve with six operating squadrons.  That same year  VAW-120 was commissioned as Wing Twelve's training squadron with a formalised training mission.
VAW-120 received its first E-2C+ (Group I) aircraft in November 1993.  This aircraft introduced the enhances APS-139 radar system and the more powerful and efficient T56-A-427 Allison engine.  The E-2C continued to grow technologically and in February 1994 the command took custody of its first E-2C (Group II) aircraft.  This version of the E-2 introduced the powerful and innovative APS-145 radar and an impressively accurate Global Positioning System (GPS) to aid in navigation.  As a result the Group II curriculum for pilots and NFOs was established to provide training in the new aircraft.
VAW-120 became the single site Fleet Replacement Squadron (FRS) in September 1994 when VAW-110, its west coast counterpart, was decommissioned.  As a result VAW-120 is the sole training site for all E-2C and C-2A aircrew.  Most VAW squadrons have 29 officers and 134 enlisted personnel; AVW-120 has 89 officers and 366 enlisted personnel.
The C-2A
The C-2A Greyhound joined the "Greyhawks" in 1985 as a Carrier On-board Delivery (COD) aircraft, replacing the C-1 Trader in the same role.  Similar in appearance to the E-2, the C-2 has two Allison T56-A-425 turboprop engines, a payload of 4,536 KG, can carry up to 26 passengers, has a crew of 4 (2 pilots 2 aircrew) and provides support  to Carrier Strike Groups carrying mail, passengers and priority cargo.  VAW-120 has just started to receive back C-2s which have been away to the Naval Air Deport (NADEP) at NAS North Island California, where these aircraft  have had a Service Life Extension Program (SLEP).  As part of SLEP all 36 C-2s of the USN are to undergo extensive rewiring, structural enhancements, new eight bladed propellers and new avionics package which include traffic alert, collision avoidance and terrain awareness warning system.  As a result of this upgrade program the service life of the C-2 has been extended to 2027, with up to 36,000 landings and 15,000 operational flight hours expected.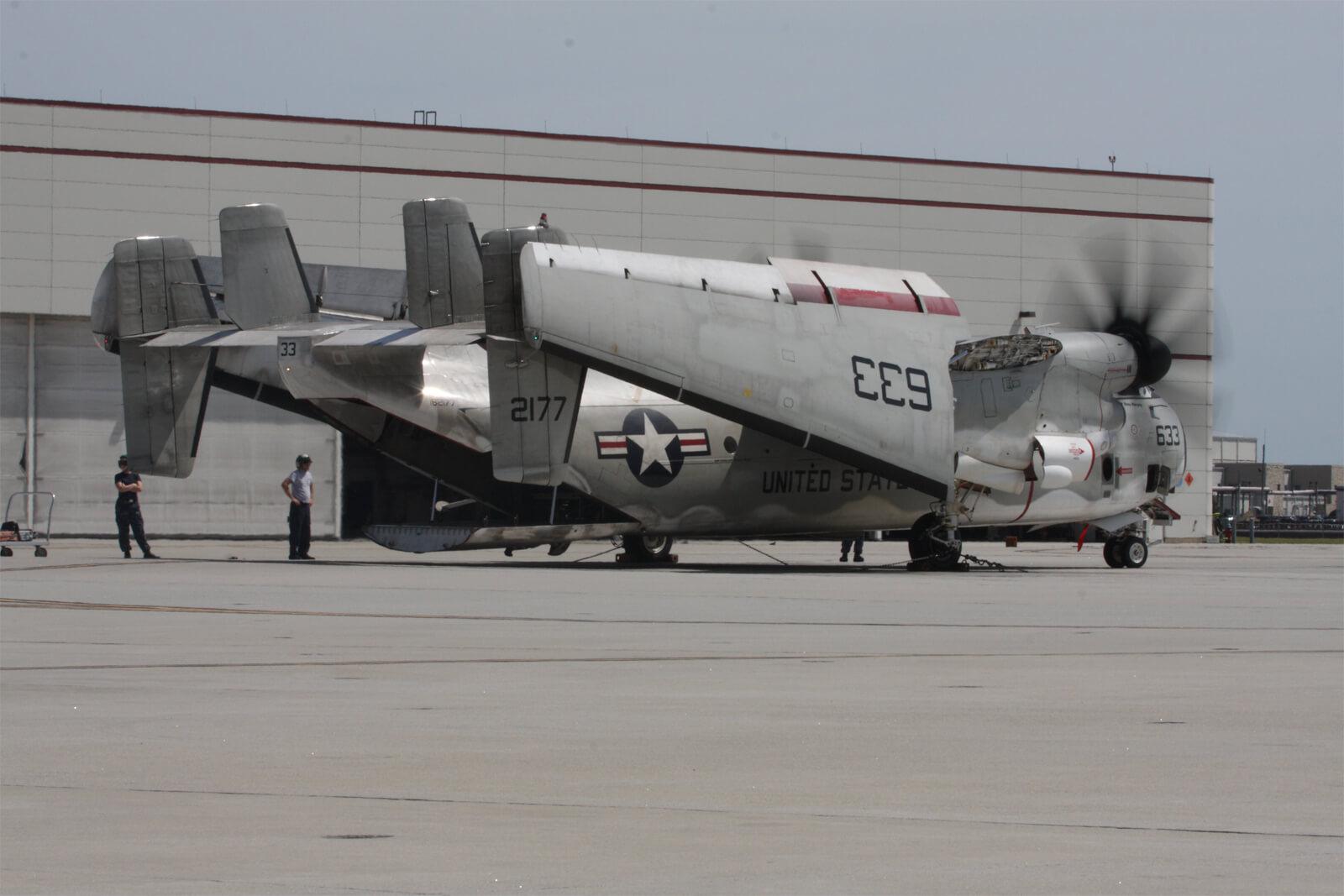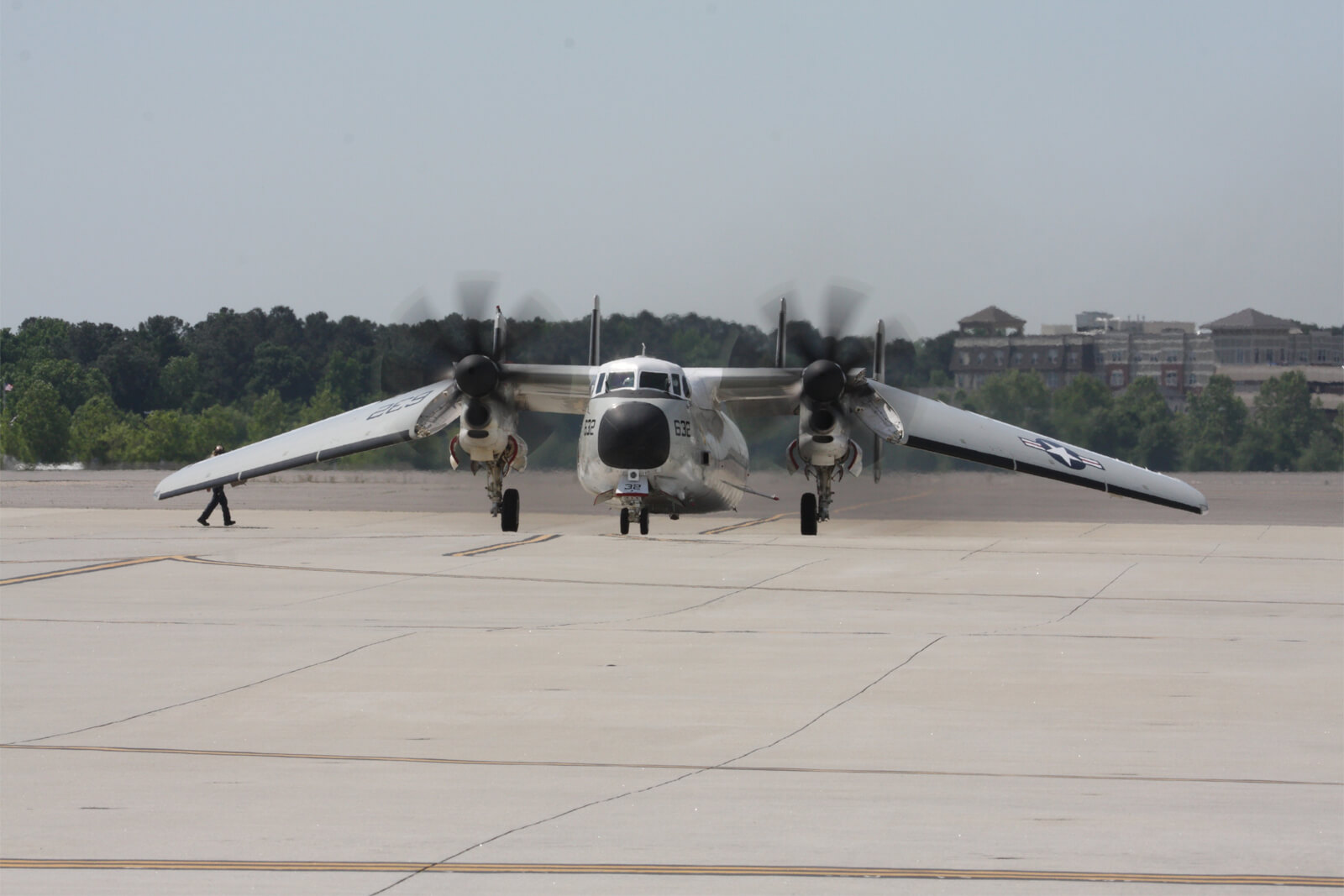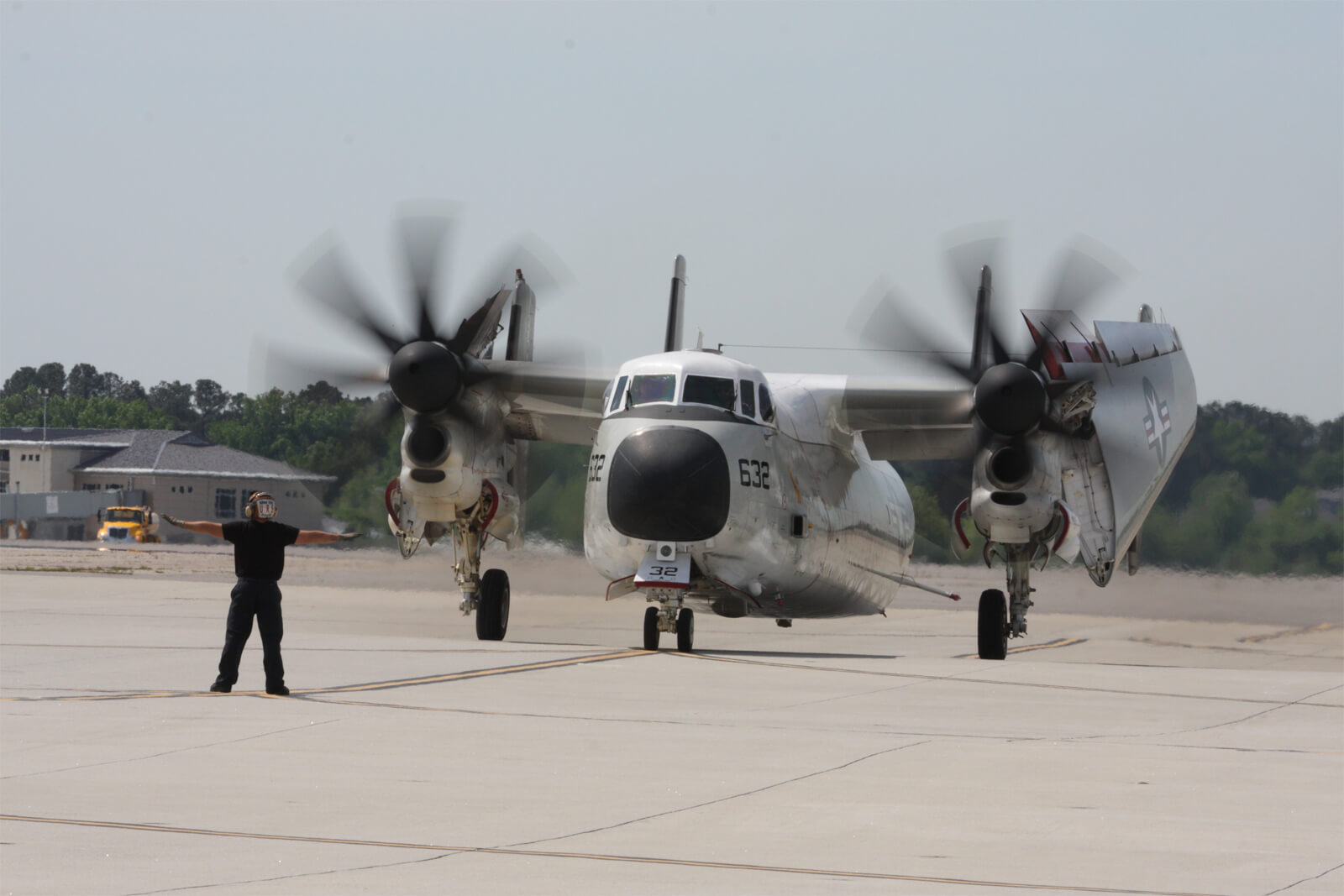 The New E2D
While the external appearance is similar to the E-2C, the systems and capabilities, which the E-2D Advanced Hawkeye contains, are completely redesigned.  At the heart of the aircraft is the new radar, the APY-9, designed and built by Lockheed Martin Corporation.  It can "see" smaller targets and more of them at greater ranges than the E-2C.  The new rotodome, developed by L-3 Communications Randtron Antenna Systems, contains the critically important, continuous, 360-degree scanning capability, while adding an electronically scanned array.  This system allows operators to focus the radar on selected areas of interest.  Hawkeye operators will have new radar system workstations; integrated satellite communications capabilities and other tools to better manage the battle space and provide fighters with expanded situational awareness and information to complete their missions.  An additional new feature of the E-2D is the state-of-the-art all glass tactical cockpit that replaces prior-generation Hawkeye displays and avionics systems.  One of the advantages is that pilots can also serve as weapon system operators.  Also as standard in the Advanced Hawkeye is the eight bladed propellers which provides greater fuel efficiency over the E-2C+ model.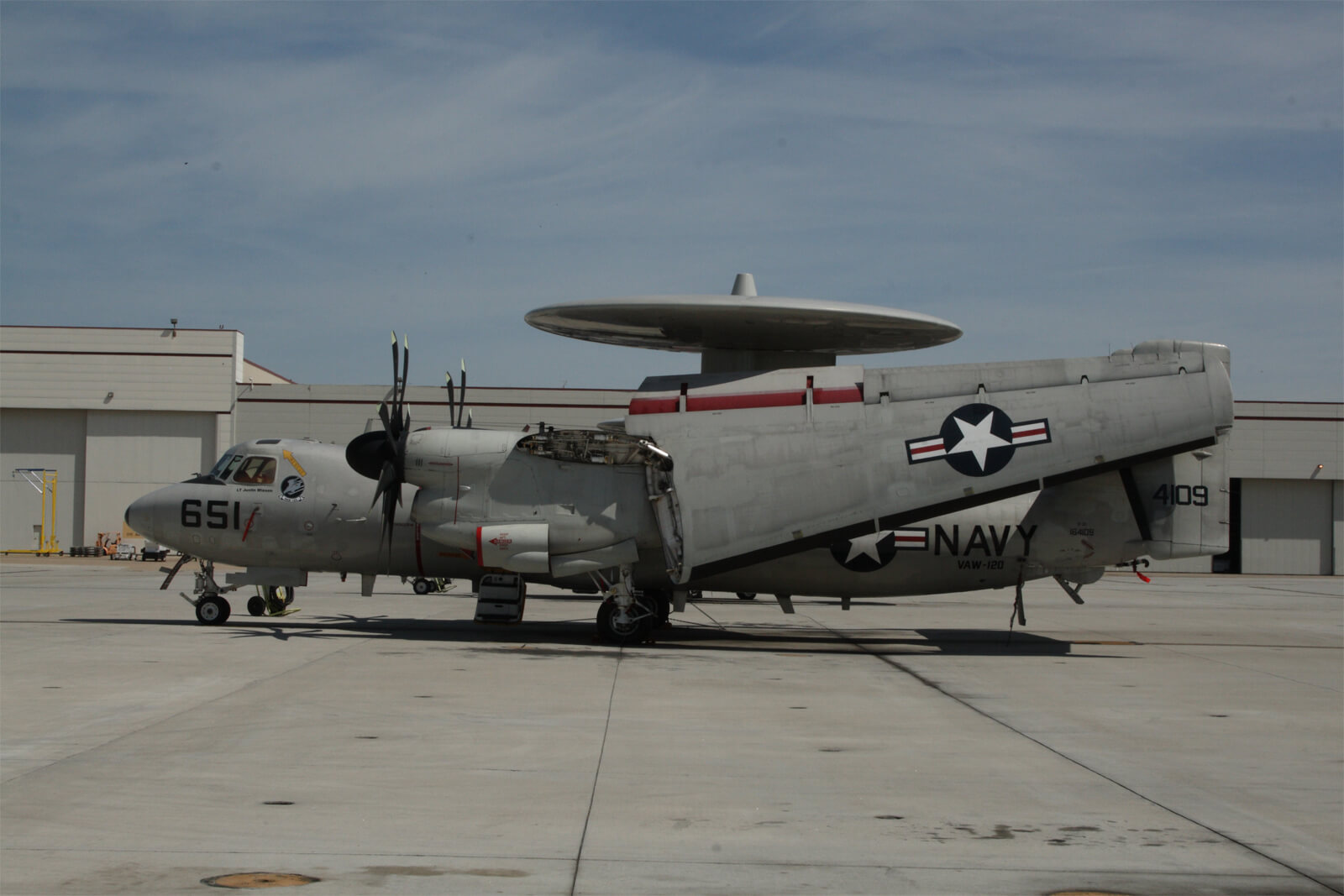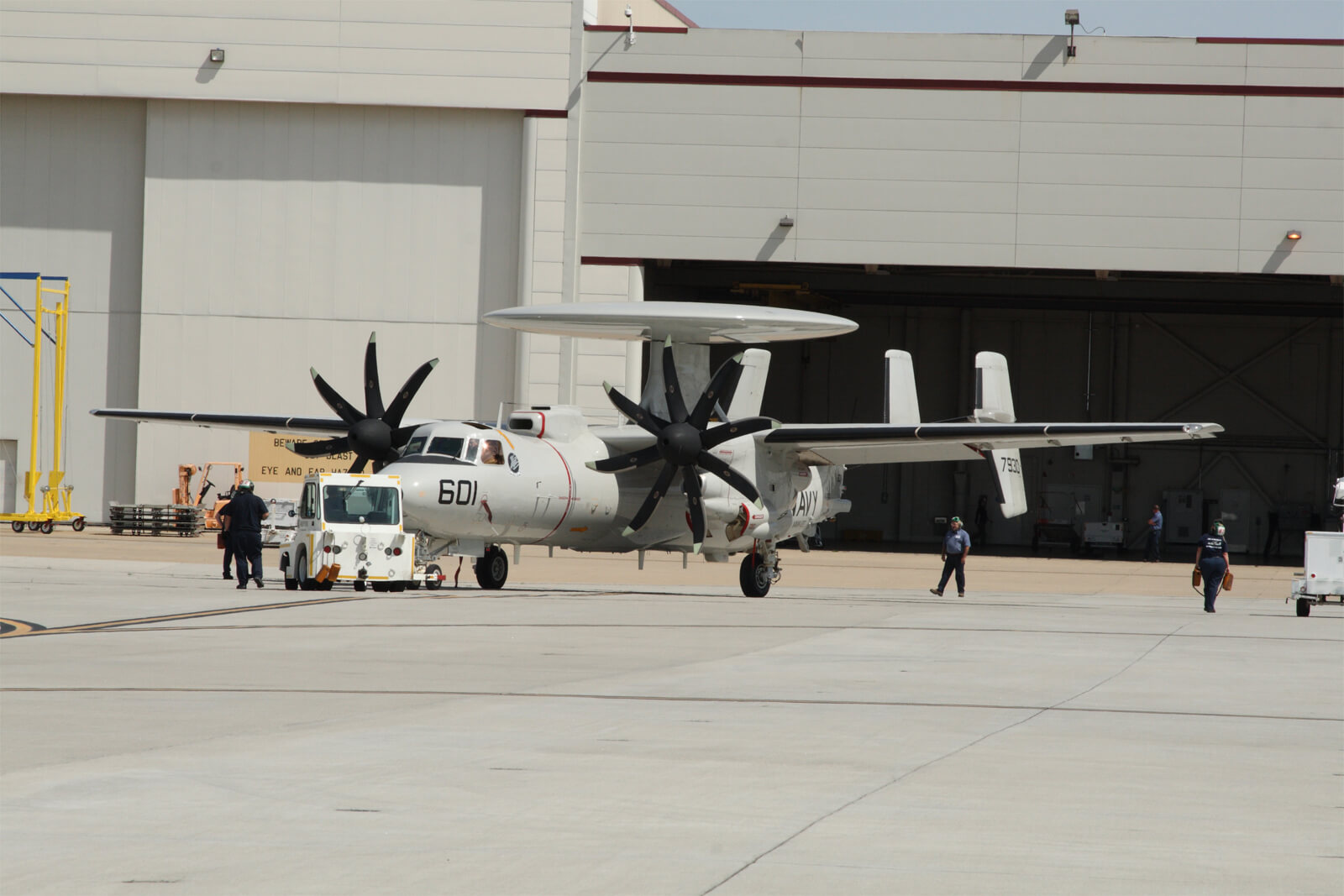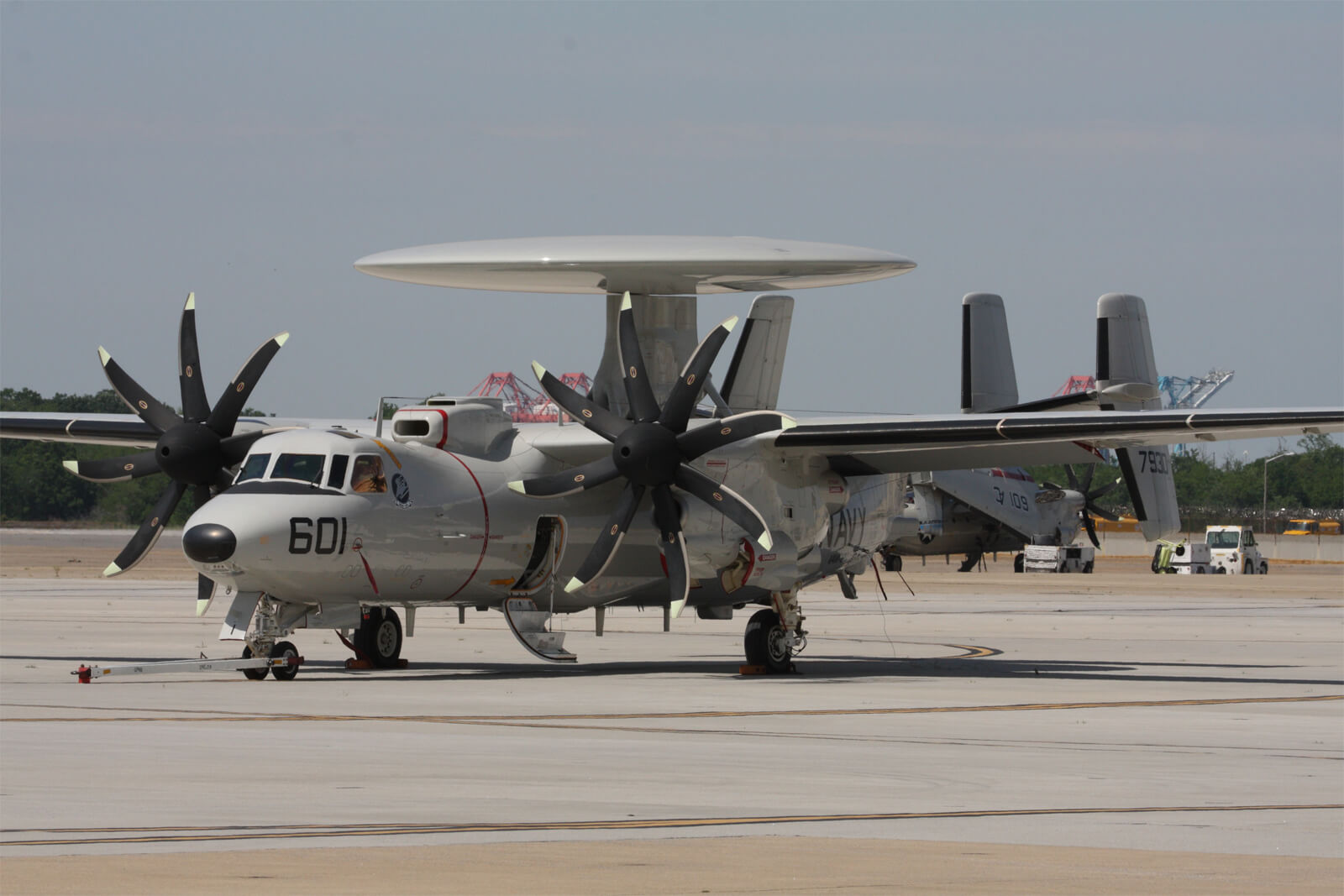 At the time of writing this article VAW-120 had just received its first E-2D.
Aviation Press would like to thank the Public Affairs at NAS Norfolk, VAW-120 Public Affairs, Jon Astley and Mark Burden.