Author & photography: Ian French
Construction of Marine Corps Air Station Cherry Point in North Carolina began in 1941 only days before the attack on Pearl Harbour.  The facility was commissioned in 1942 as Cunningham Field, named in honor of the Marine Corps' first aviator, Lieutenant Colonel Alfred A Cunningham and the first aircraft landing took place the same year with a J2F Grumman.  The completed facility was later renamed Marine Corps Air Station Cherry Point, after a local post office situated among cherry trees.
Cherry Point's primary World War II mission was to train units and individual Marines for service to the Pacific theater.  The air station also served as a base for anti-submarine operations, with an Army Air Corps (22d Antisubmarine Squadron) and later a Navy squadron each being responsible for the sinking of a German U-boat just off the North Carolina coast during 1943.
Cherry Point is one of the world's largest Marine Corps air stations and one of the best all-weather jet bases in the world.  The size of the air station has increased from the original 8,000 acres to more than 13,000 acres at the primary complex, with nearly 16,000 additional acres in associated support locations.  Cherry Point has one of the most active all-service bombing ranges on the East Coast.  Today, MCAS Cherry Point is home to nearly 15,000 Marines, sailors and civilians, with an annual economic impact on the surrounding region of more than $2 billion.
Today MCAS Cherry Point is the home of 2MAW, the USMC's 2nd Marine Aviation Wing.  The wing was originally resident in San Diego but relocated to Cherry Point in 1946.  In the intervening 70 years the wings has been involved in countless deployments and exercises and many wars including Vietnam, Gulf I, Gulf II and Iraq.
The 2nd MAW consists of five Marine Aviation Groups ("MAG") of which MAG-26 and MAG-29 are based at MCAS New River in North Carolina and MAG-31 at MCAS Beaufort in South Carolina.  However, two MAG-29 squadrons, HMH-366 and HMLA-467, are based at Cherry Point.  MCAS Cherry Point has the following wings and units:
MAG-14
VMAQ-1 Banshees
VMAQ-2 Death Jesters
VMAQ-3 Moon Dogs
VMAQ-4 Seahawks
VMAT-203 Hawks
VMA-223 Bulldogs
VMA-231 Ace of Spades
VMA-542 Flying Tigers
VMGR-252 Otis
EA-6B
EA-6B
EA-6B
EA-6B
AV-8B/TAV-8B
AV-8B
AV-8B
AV-8B
KC-130J
CB
CY
MD
RM
KD
WP
CH
WH
BH
MAG-29
HMLA-467 Sabers
HMH-366 Hammerheads
VMR-1 is also located at MCAS Cherry Point and remains a unique Marine Corps asset that operates two C-9B Skytrains, two UC-35D Cessna Encores and three HH-46E Sea Knight helicopters.  The squadron operates its C-9B and UC-35 aircraft in a myriad of missions dealing with cargo and troop movement, in addition to the transportation of military and civilian dignitaries.  Traditionally referred to as "Pedro," the HH-46E is primarily used for search and rescue missions in support of military, Coast Guard and civilian authorities when extended searches in eastern North Carolina are required.
Marine Expeditionary Units
One of the missions of the modern Marine Corps is to be able to deploy overseas at very short notice with a small force that can respond rapidly to a large variety of scenarios.During our visit VMM-266 of the 26th Marine Expeditionary Unit returned from deployment aboard the USS Kearsarge (LHD-3), an amphibious assault ship, in support of operations in Libya.  The AV-8Bs saw action attacking Libyan targets as part of Operation Odyssey Dawn and the MV-22Bs successfully recovered a downed F-15E crew.  The unit consisted of AV-8Bs, AH-1Ws, UH-1Ns and MV-22Bs all coded ES.
Grumman EA-6B Prowler
The Grumman EA-6B Prowler is a twin-engine, four-seat, mid-wing electronic warfare aircraft derived from the A-6 Intruder airframe as a replacement for the EF-10B Skynight.  The EA-6A was the initial electronic warfare version of the A-6 used by the United States Marine Corps in the 1960s and in particular during the Vietnam war.
The primary mission of the EA-6B is to support ground-attack strikes by disrupting enemy electromagnetic activity.  As a secondary mission it can also gather tactical electronic intelligence within a combat zone, and another secondary mission is attacking enemy radar sites with anti-radiation missiles.
Development on the more advanced EA-6B began in 1966 as a replacement of the EKA-3B Skywarrior. The forward fuselage of the A-6 was lengthened to create a rear area for a larger four-seat cockpit, and an antenna fairing was added to the tip of its vertical stabilizer.  The development aircraft first flew in 1968 and the aircraft entered service on aircraft carriers in 1971.
The EA-6B Prowler is powered by two Pratt & Whitney J52 turbojet engines and it is capable of high subsonic speeds.  Due to its extensive electronic warfare operations and the aircraft's age (produced until 1991), the EA-6B is a high-maintenance aircraft and has undergone many frequent equipment upgrades.  Although designed as an electronic warfare and command-and-control aircraft for air strike missions, the EA-6B is also capable of attacking some surface targets on its own, in particular enemy radar sites and surface-to-air missile launchers.  In addition, the EA-6B is capable of gathering electronic signals intelligence.
The first major upgrade programme was named "expanded capability" (EXCAP) and began in 1973.  Next followed "improved capability" (ICAP) in 1976 and then ICAP II in 1980.  The ICAP II upgrade provided the EA-6B with the capability of firing Shrike missiles and AGM-88 HARM missiles.
The next upgrade was the Advanced Capability EA-6B Prowler (ADVCAP), a development programme initiated to improve the flying qualities of the EA-6B and to upgrade the avionics and electronic warfare systems.  This programme was cancelled due to budget cuts after the initial three aircraft had been modernised.
The Prowler has a crew of four, a pilot and three Electronic Countermeasures Officers (known as ECMOs).  Powered by two non-afterburning Pratt & Whitney J52-P-408A turbojet engines, it is capable of speeds of up to 590 mph (950 km/h) with a range of 1,140 miles (1,840 km).
It is capable of carrying and firing anti-radiation missiles (ARM), such as the AGM-88 HARM missile.
Unfortunately for such an iconic aircraft its operational days are numbered and soon the USMC will be the sole operator of this aircraft.  It will be out of service by 2020.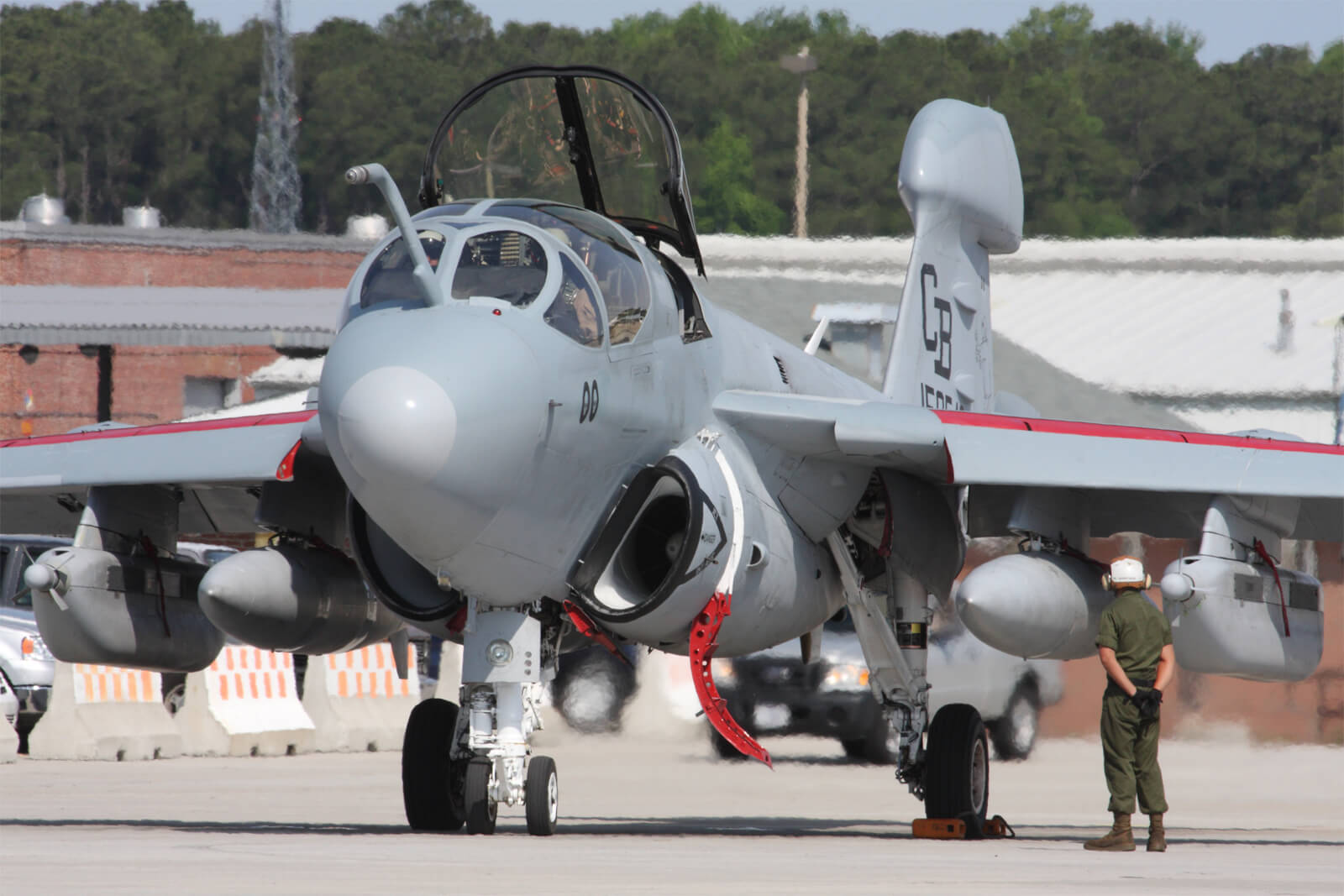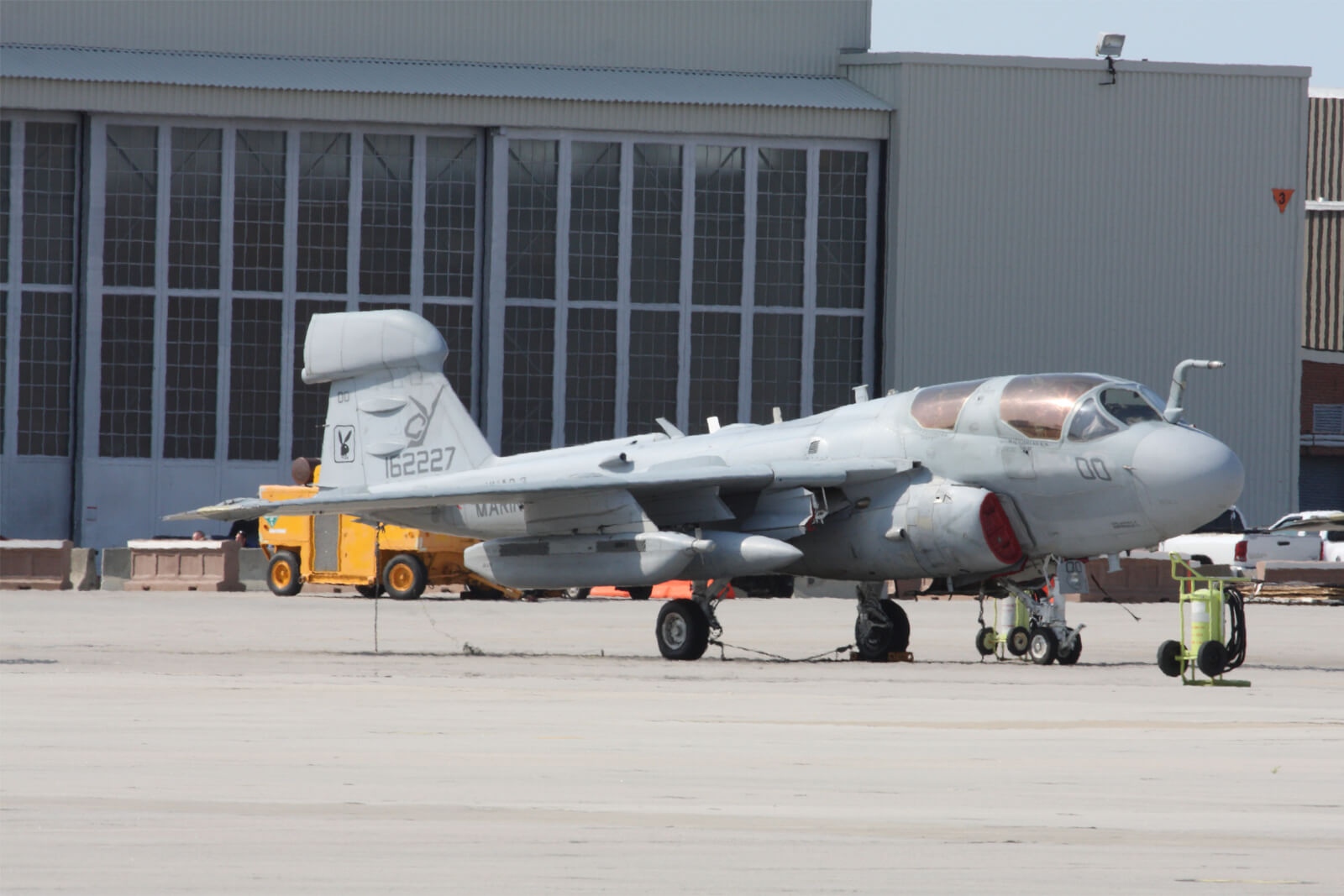 McDonnell Douglas AV-8B-II
The AV-8B as most will know is based on the Hawker Siddeley Harrier.  McDonnell Douglas redesigned the aircraft to incorporate a new larger area wing (14.5%), an elevated cockpit, a redesigned fuselage, one extra hardpoint per wing, and other structural and aerodynamic improvements.  The aircraft is powered by an upgraded version of the Pegasus F402-RR-408 vectored-thrust turbofan producing 23,500 lb.
The AV-8B replaced the AV-8A and the earlier McDonnell Douglas A-4 Skyhawk.  The maiden flight was in 1981 and the aircraft entered service in 1985.  Later upgrades added a night-attack capability and radar, resulting in the AV-8B(NA) and AV-8B Harrier II Plus.
Due to its unique VTOL/STOL capabilities the AV-8B has seen many deployments throughout the world and much combat action, in particular in the Gulf war.  The aircraft will eventually be replaced by the Lockheed Martin F-35B.
The aircraft has a top speed of Mach 0.9 (585 knots), a range of 1,200 nm and a ceiling of 31,000 ft.  The maximum takeoff weight for vertical is 9,415 kg and for a rolling takeoff 14,100 kg.
The armament is formidable and consists of:
Guns: 1 × General Dynamics GAU-12 Equalizer 25 mm (0.984 in) 5-barreled Gatling cannon mounted under-fuselage in the left pod, with 300 rounds of ammunition in the right pod
Hardpoints: 6 × under-wing pylon stations holding up to 9,200 lb (4,200 kg) of payload:
Rockets: 4 × LAU-5003 rocket pods
Air-to-air missiles:
4 × AIM-9 Sidewinder or similar-sized infrared-guided missiles, or 6 × AIM-120 AMRAAM (on radar equipped AV-8B Plus variants)
Air-to-surface missiles:
6 × AGM-65 Maverick, or 2 × AGM-84 Harpoon, or 2 × AGM-88 HARM
Bombs:
CBU-100 cluster bombs, or Mark 80 series of unguided bombs, or Paveway series of laser-guided bombs, or Joint Direct Attack Munitions (GBU-38, GBU-32, and GBU-54), or Mark 77 napalm canisters, or B61 nuclear bomb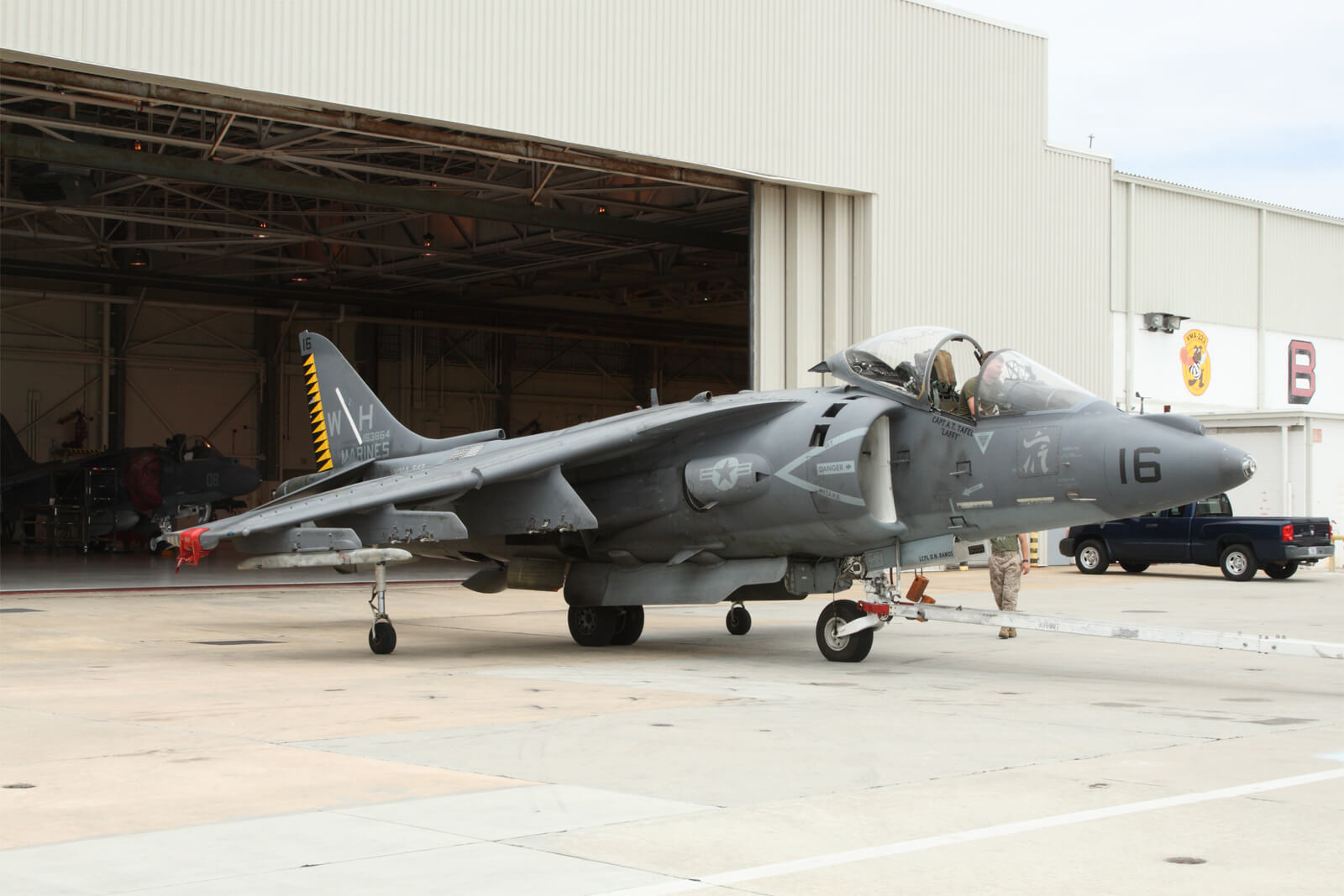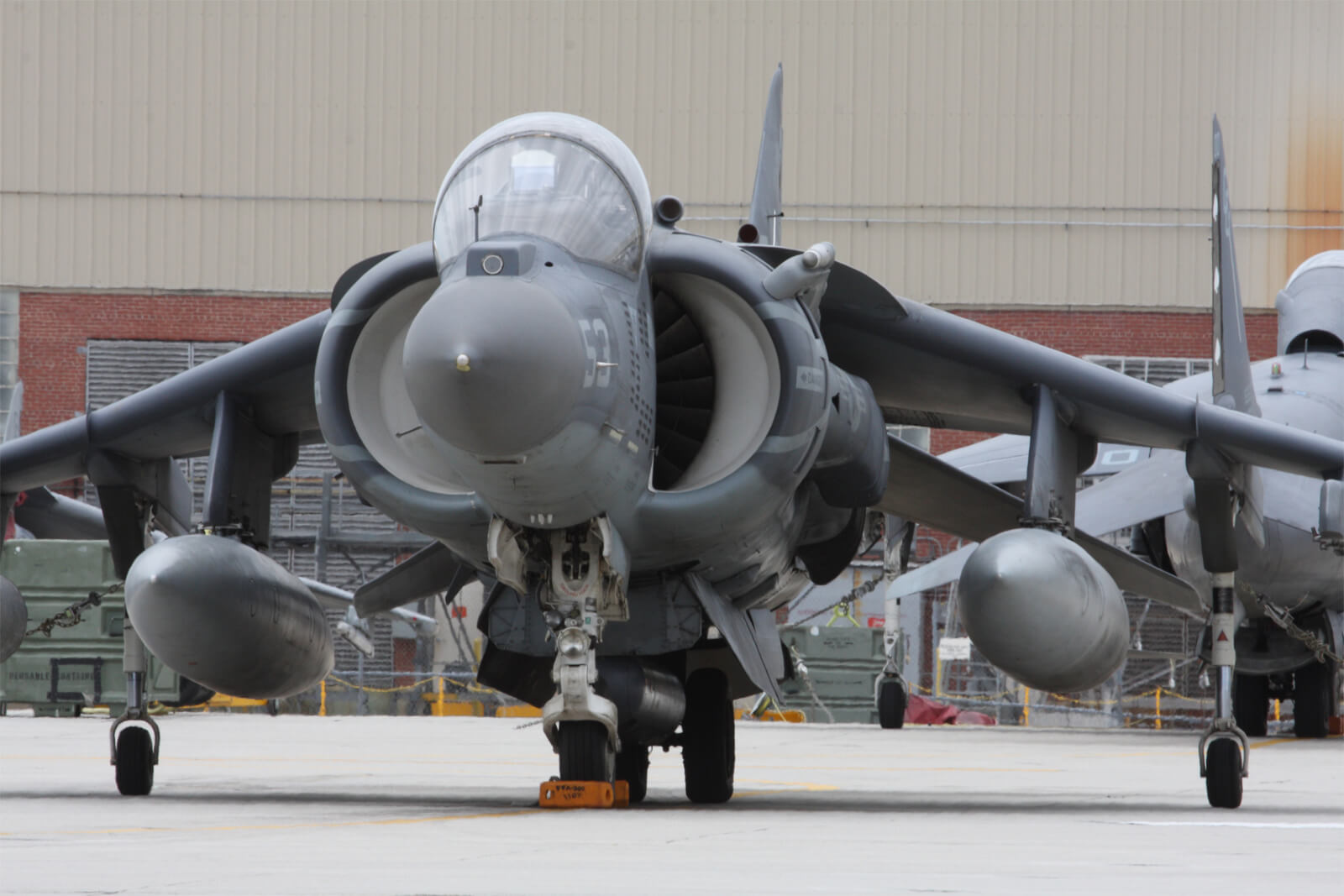 Lockheed KC-130J Hercules
The Lockheed KC-130J is based upon the iconic C-130 which first entered service in the 1950s.  The C-130J is of course a completely redesigned and modernized version of the original design.  Nevertheless, the C-130 is the longest continuously produced military aircraft at over 60 years. The C-130J model has new turboprop engines, six-bladed propellers, digital avionics and other new systems.
The aircraft is used as a transport and for aerial refueling and replaces the older C-130 models. The first aircraft was delivered in 2004.  This versatile asset provides in-flight refueling to both tactical aircraft and helicopters within a 500-nautical-mile (930 km) operating radius, as well as rapid ground refueling when required.  The refueling speed envelope has been widened from 100 to 270 knots (500 km/h) indicated airspeed, offering more capability and flexibility. Offload rates per refueling pod can be up to 300 gallons per minute simultaneously. The KC-130's offload is significantly greater than previous Hercules tankers. As an example, at 1,000 nautical miles (1,852 km), the fuel offload is well over 45,000 pounds (20,412 kg).
Additional tasks performed are aerial delivery of troops and cargo, emergency resupply into unimproved landing zones within the objective or battle area, emergency medical evacuation, tactical insertion of combat troops and equipment, and evacuation missions.  79 aircraft are on order.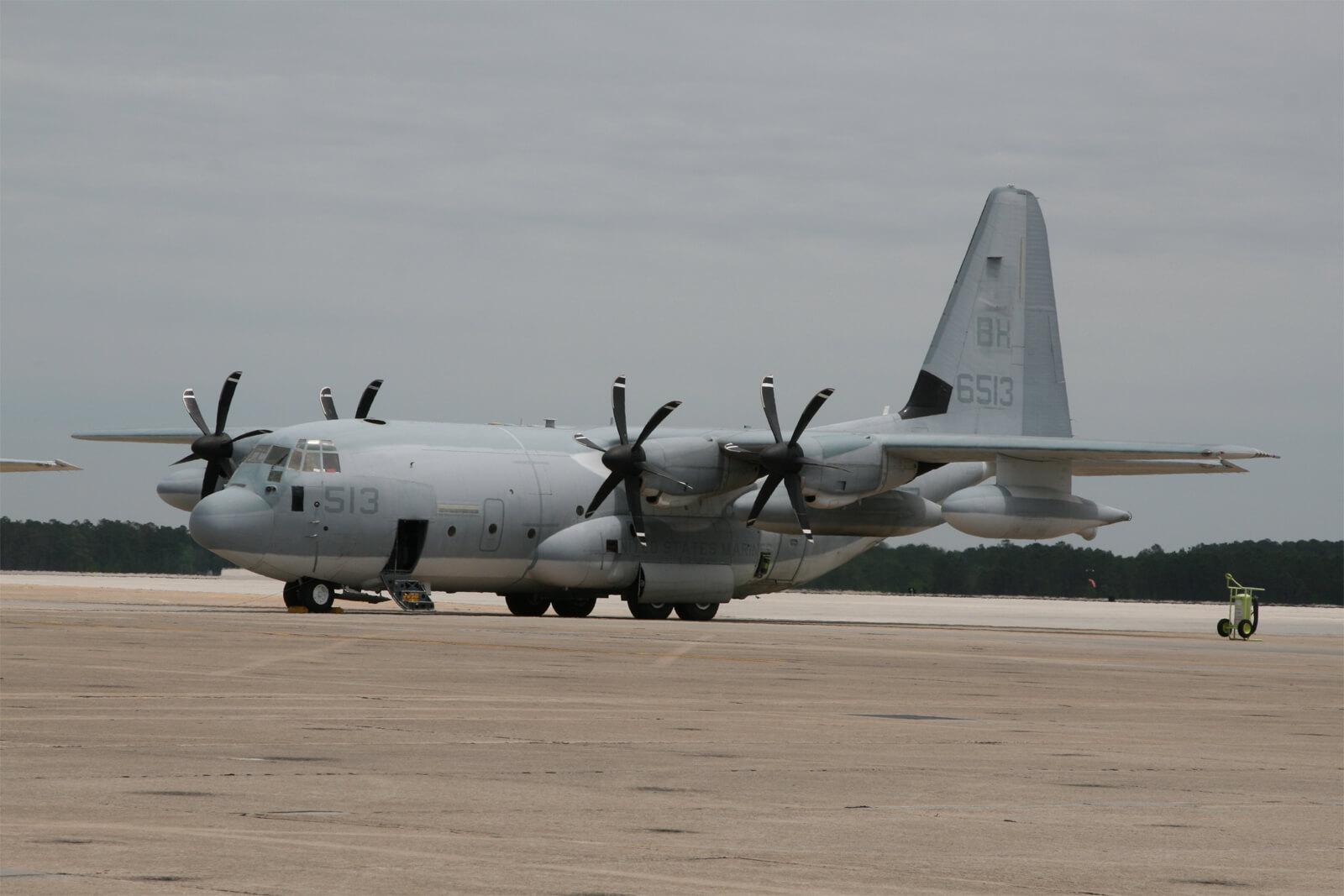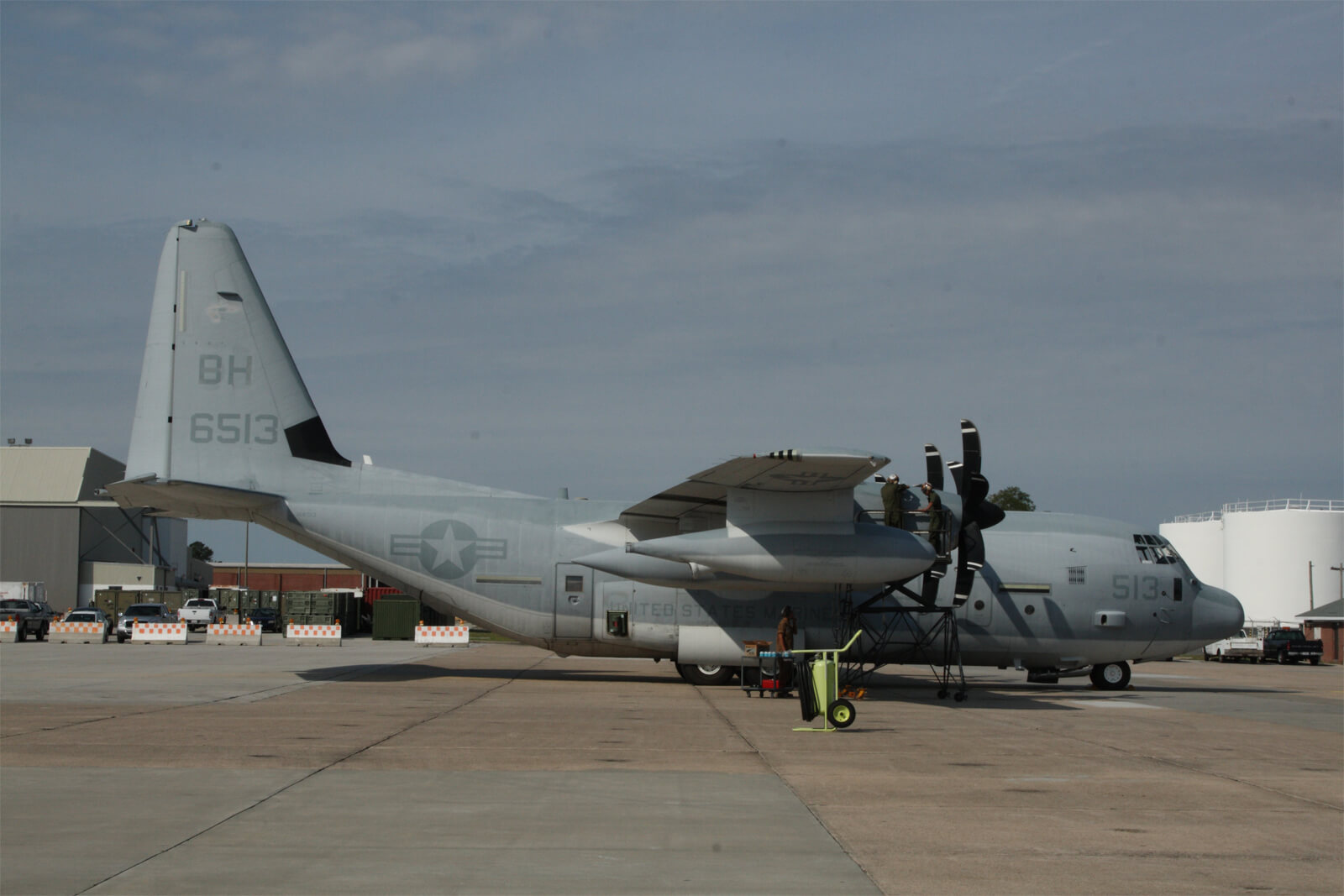 Sikorsky CH-53E Super Stallion
The CH-53 was a replacement for the Sikorsky CH-37 heavylift helicopter. Its fuselage is, in essence, a scaled-up version of that used on the Sikorsky S-61R, while its rotor and transmission system and certain other components are derived from the Sikorsky S-64 Skycrane.  Despite this messy beginning, it has been hugely successful and is the largest and heaviest helicopter in the western world.
In August 1962 it was announced that the S-65A had been selected as a new ship-borne heavy assault transport for the USMC, with the military title CH-53A Sea Stallion. A prototype flew in October 1964, and delivery of the first CH-53A's began in September 1966 powered by two General Electric T64-GE-6 turboshaft engines with 2,850 shp and a light alloy six blade main rotor.   It had rear-loading doors, and among the specified loads were a 105mm howitzer or 38 combat-equipped troops.   The initial production version was the CH-53A, delivered from September 1966, but the CH-53D introduced in March 1969 had more powerful 3,925 shp T64-GE-413 engines.  A total of 55 troops could be carried in a high-density arrangement.  An integral cargo handling system made it possible for one man to load or unload 1 ton of palletised cargo a minute.  The main rotor and tail pylon folded automatically for carrier stowage.
However, the USMC was still not happy with the helicopter's performance and issued a specification for a heavylift helicopter with 1.8 times the lifting capacity of the CH-53A.  Thus the CH-53E was borne.  In 1974 the first CH-53E flew and featured a third engine fitted behind the rotor mast.  With three 4,380 shp General Electric T64-GE-416 engines the transmission was strengthened to withstand the increase in power.  The CH-53E was named the Super Stallion.  The fuselage is about two meters longer than that of the CH-53D and the tail pylon is canted to port.  The main rotor has also been improved and has seven composite blades.
The CH-53E has a crew of five: 2 pilots, 1 crew chief/right gunner, 1 left gunner, 1 tail gunner (combat crew) and has a capacity for 37 troops (55 with centerline seats installed).  The empty weight is 15,071 kg and the maximum takeoff weight is 33,300 kg.  Cruise speed is 150 knots and its range is 540 nm.
The CH-53E's armament are two .50 BMG (12.7 x 99 mm) window-mounted GAU-15/A machine guns and one .50 BMG (12.7 x 99 mm) ramp mounted weapons system, GAU-21 (M3M mounted machine gun).  Chaff and flares dispenses are also used.
This highly successful helicopter will be replaced by the CH-53K.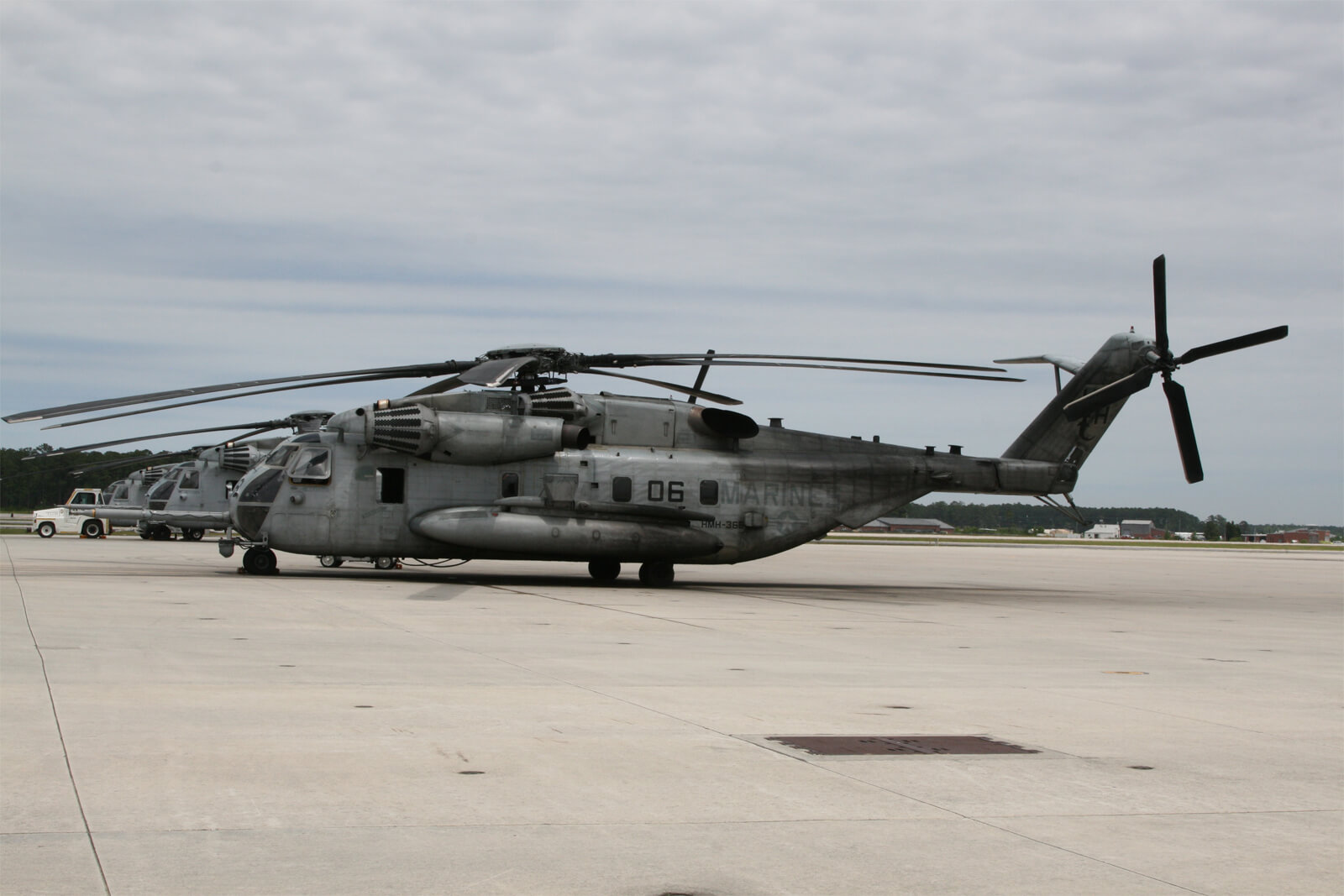 Bell AH-1W Super Cobra
The Bell AH-1 Super Cobra is a twin-engine, twin rotor attack helicopter based on the United States Army's single-engine AH-1G Cobra.  It has evolved from the USMC's AH-1J and AH-1T versions.
Initially the AH-1J received a more powerful gun turret than the AH-1G and it featured a three barrel 20 mm XM197 cannon that was based on the six barrel M61 Vulcan cannon.  The USMC requested greater load carrying capability in high temperatures for the Cobra in the 1970s.  Bell used systems from its Model 309 to develop the AH-1T.  This version had a lengthened tail boom and fuselage with an upgraded transmission and engines from the 309.  Bell designed the AH-1T to be more reliable and easier to maintain in the field. The version was given full TOW missile capability with targeting system and other sensors.
In the early 1980s the USMC required a more powerful version of the AH-1T.  Other changes included modified fire control systems to carry and fire AIM-9 Sidewinder and AGM-114 Hellfire missiles.  The new version received the AH-1W designation.
The AH-1W has a crew of two: pilot, co-pilot/gunner, an empty weight of 4,630 kg and a maximum takeoff weight of 6,690 kg.  It is powered by two General Electric T700-401 turboshaft engines which produce 1,690 shp each.  The maximum speed is 190 knots and the range 317 nm.
The AH-1W though is all about armament:
–             20 mm (0.787 in) M197 3-barreled Gatling cannon in the A/A49E-7 turret (750 rounds ammo capacity);
–             2.75 in (70 mm) Hydra 70 or APKWS II rockets – Mounted in LAU-68C/A (7 shot) or LAU-61D/A (19 shot) launchers;
–             5 in (127 mm) Zuni rockets – 8 rockets in two 4-round LAU-10D/A launchers;
–             TOW missiles – Up to 8 missiles mounted in two 4-round XM65 missile launchers, one on each outboard hardpoint;
–             AGM-114 Hellfire missiles – Up to 8 missiles mounted in two 4-round M272 missile launchers, one on each outboard hardpoint;
–             AIM-9 Sidewinder anti-aircraft missiles – 1 mounted on each outboard hardpoint (total of 2).
The AH-1W is also being withdrawn from service and is being replaced by the AH-1Z Viper.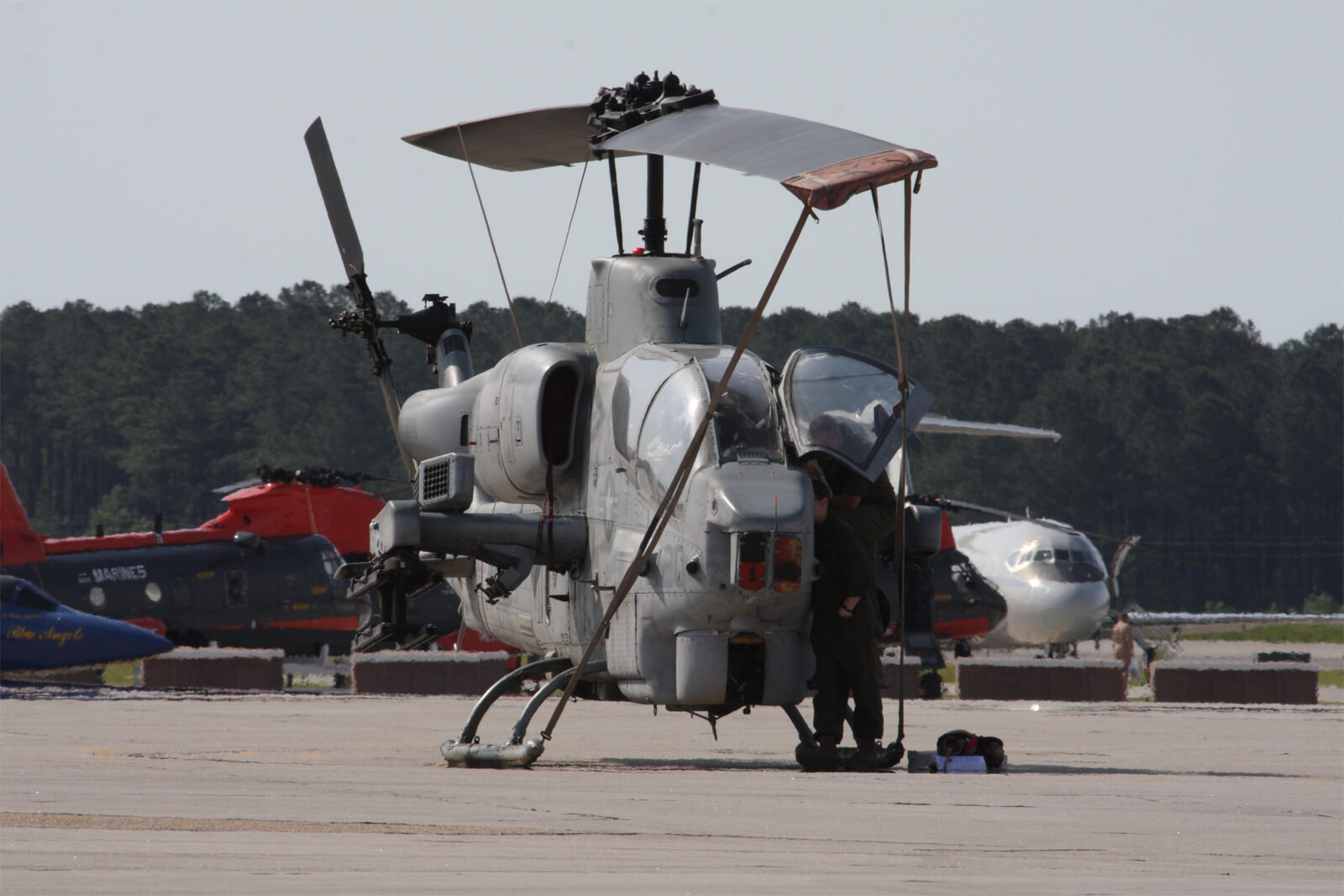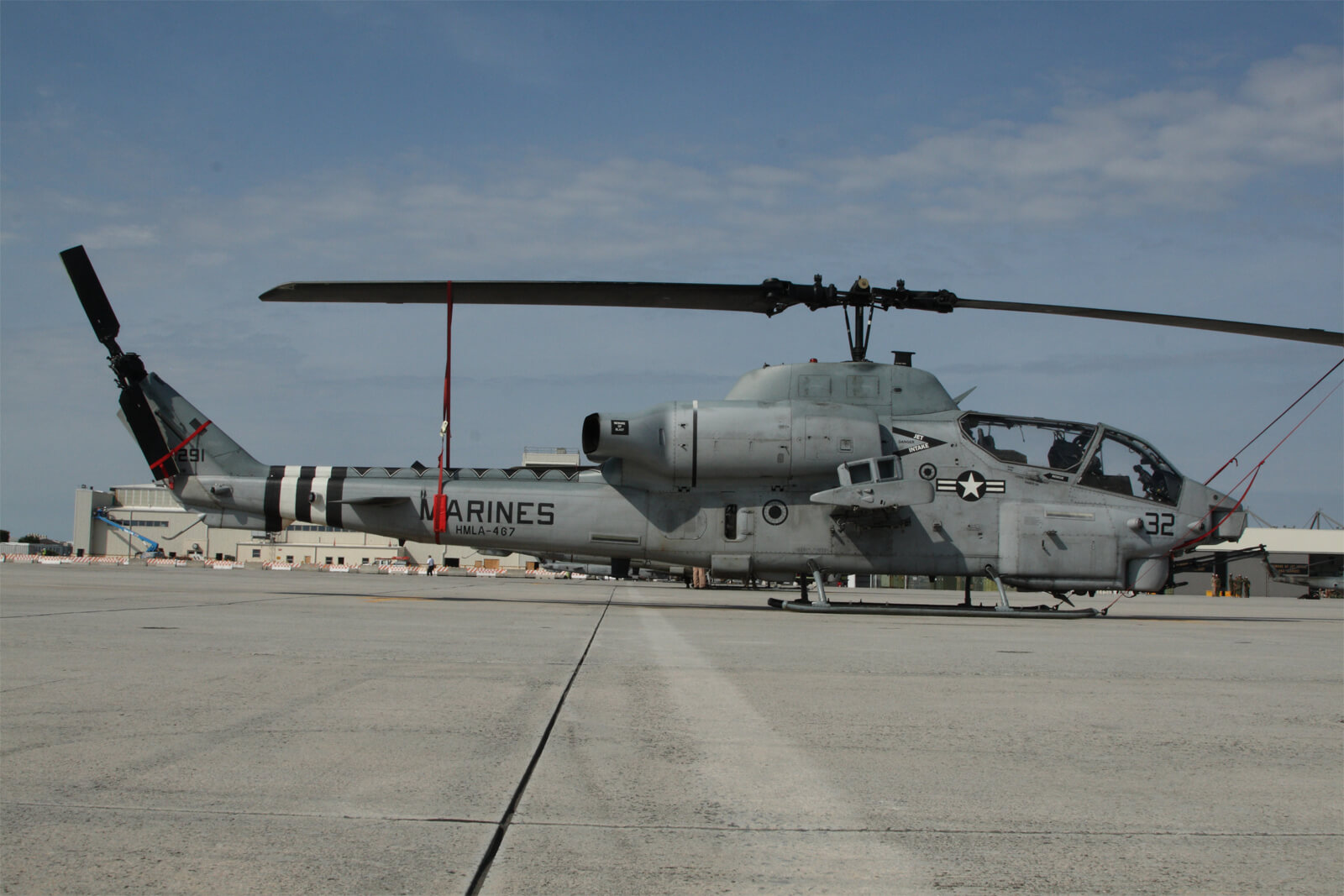 Bell UH-1N Iroquois
The Bell UH-1N Twin Huey is a twin-engine, twin rotor medium military helicopter based upon a stretched Bell 205A.  A member of the numerous Huey family, it first flew in 1969.  There was some controversy over this particular model, as the power plant was built in Canada, but eventually deliveries began in 1970.
The UH-1N is powered by two Pratt & Whitney Canada T400-CP-400 turboshaft engines that drive a single output shaft.  They are capable of producing up to 1,800 shp.  Should one engine fail the remaining engine can deliver 900 shp for 30 minutes or 765 shp enabling the UH-1N to maintain cruise performance at maximum weight.
The UH-1N has a crew of 4 (pilot, co-pilot, crew chief, gunner) and a capacity for 6-8 combat-equipped troops, or equivalent cargo.  Its empty weight is 2,765 kg and its maximum takeoff weight is 4,763 kg.  Cruise speed is 110 knots and its range is 248 nm.
This is another of the USMC's legacy aircraft that are being withdrawn from service in the near future.  The UH-1N is being replaced by the UH-1Y Venom.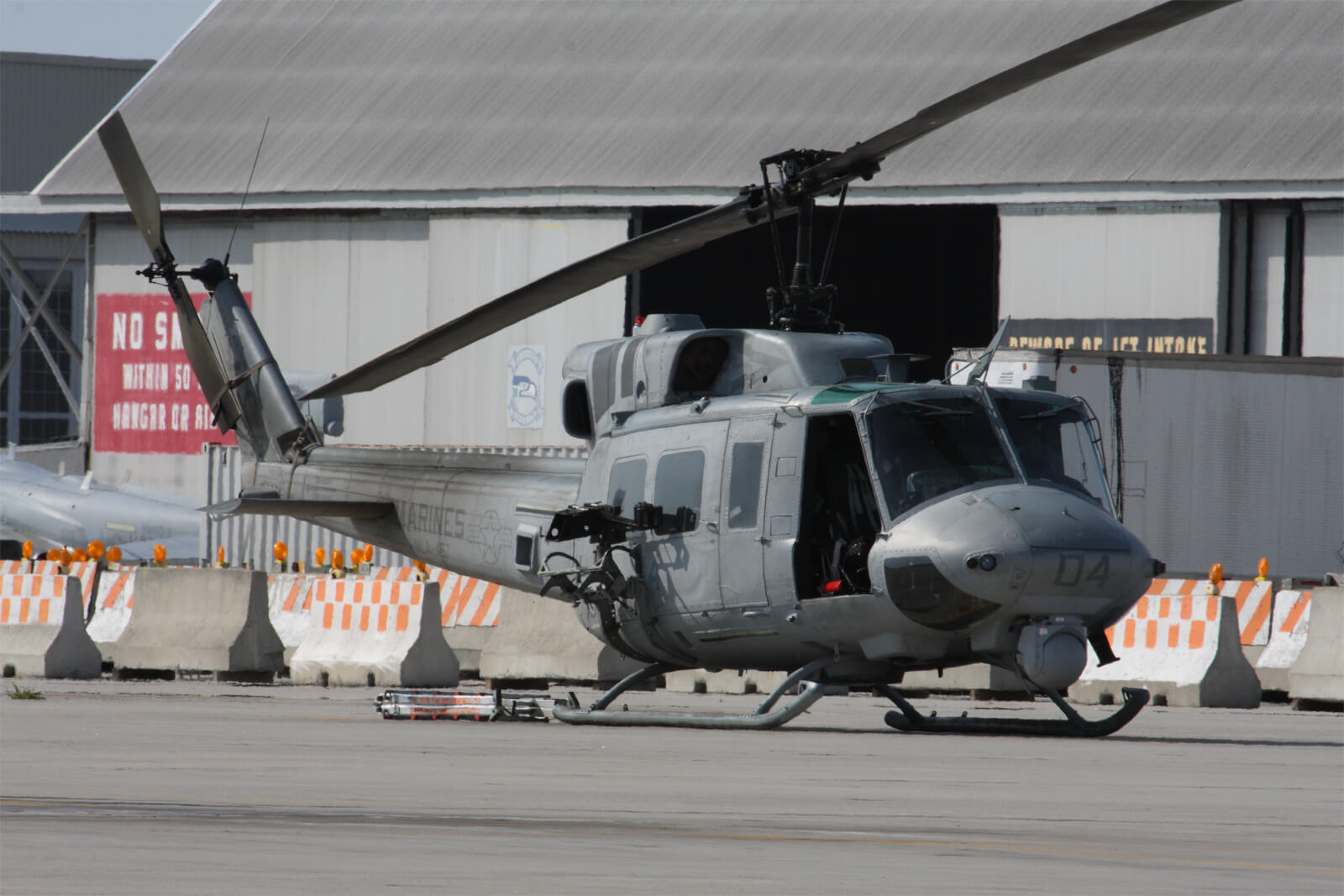 Special thanks to Mark Forest, Jon Astley and the Public Affairs MCAS Cherry Point for their help in producing this article.
Aviation Press Limited owns the copyrights to this article & associated photographs.