Author & photographer: Ian French
Organisation and History
Helicopter Mine Countermeasures Squadron 14 ("HM-14") was established in 1978.  It was the first of two squadrons Navy-wide that have integrated an Active Duty airborne mine countermeasures squadron (AMCM) and is home ported in Norfolk, Virginia.  The squadron's nickname is Vanguard and its tailcode is BJ.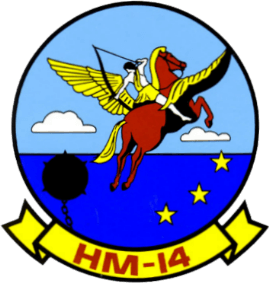 HM-14's mission is to stand ready to deploy anywhere in the world within 72 hours to provide airborne mine countermeasures and vertical onboard delivery support.  Additionally, humanitarian and disaster relief tasking has been increasing in recent years.  Recognizing the capabilities of the MH-53E, the squadron can also provide platforms for United States Navy EOD and Force Recon paratroopers.
Prior to 1994, the Navy had five helicopter mine sweeping squadrons, two active-duty (HM-14 and HM-15), two Reserve  (HM-18 and HM-19) and a fleet readiness squadron.  Due to their size and operational costs, the Reserve squadrons were disestablished and integrated as the Reserve element of the two active-duty squadrons and the fleet readiness squadron was disestablished.  Following the integration, HM-14 has 700 officers and Sailors, active and Reserve, 12 MH-53E Sea Dragons and twice the mine sweeping equipment it had before.  Four officers and 160 enlisted personnel are TARs (Training and Administration of Reserves) who serve full time, to ensure the Selected Reservists (SELRES) – 18 officers and 76 enlisted – receive training for mobilisation and peacetime missions.  A regular drill weekend is scheduled each month to train and support the majority of the Reserve element.  An additional weekend is set aside as "fly weekend" to give Reserve pilots time in the cockpit.  Shifts of day, night, weekend and support checks keep the squadron operational 24-hours a day.
HM-14 maintains permanent detachments in Bahrain and Korea.
The Helicopters
The squadron was originally outfitted with eight RH-53D aircraft from HM-12, its sister unit at NAS Norfolk.  These helicopters had Vietnam war legacy mine sweeping equipment consisting of the towed Mk 105 sled and fitted with 0.50-inch caliber machine guns and provision for air refueling.
The squadron received its first MH-53E Sea Dragon in 1989 and is expected to continue in service until 2025.  A variant of the CH-53E,  this model was the first aircraft designed specifically for AMCM.  The MH-53 can operate from carriers and other warships and is capable of towing a variety of mine hunting/sweeping countermeasures systems, including the Mk 105 magnetic mine sweeping sled, the AQS-14A side-scan sonar, and the Mk 103 mechanical mine sweeping system.  When performing the assault support mission, the MH-53E can be fitted with the GAU-21 .50-cal. machine gun ramp-mounted weapon system.  The MH-53E also performs the U.S. Navy's vertical onboard delivery (VOD) mission, transporting heavy equipment to and from ships.
Empty take off weight
Max take off weight
Cruise speed
Range
Ceiling
Rotors
Powerplant
Power
RH-53D
10,740 kg
19,100 kg
150 knots
540 nm
5,106 m
6 main, 4 tail
2 x General Electric T64-GE-413
2 x 3,925 shp
MH-53E
15,071 kg
33,300 kg
150 knots
1,050 nm
5,640 m
7 main, 4 tail
3 x General Electric T64-GE-419
3 x 4,750 shp
Special thanks to Mark Forest, Jon Astley, the PAO NAS Norfolk and HM-14 for their help in producing this article.
Aviation Press Limited owns the copyrights to this article & associated photographs.